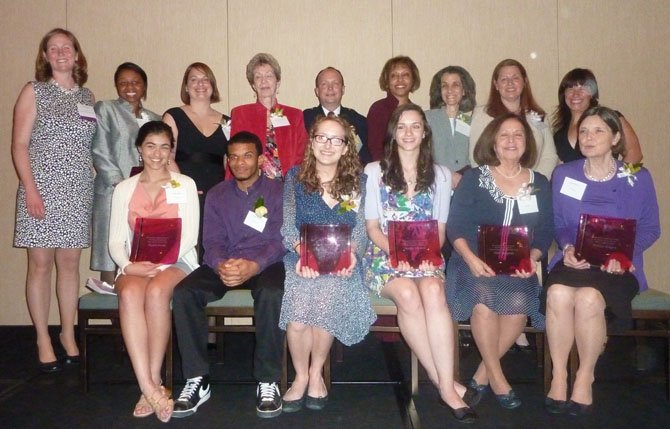 The Alexandria Commission for Women held its 32nd annual Salute to Women Awards March 26 in a ceremony that honored 14 individuals who have made outstanding contributions to the community.
Salute to Women 2012 Award Winners
Susan Lowell Butler Lifetime Achievement Award - Elsie Mosqueda
Marguerite Payez Leadership Award - Gwendolyn Lewis
Leadership in Business & Career Award - Andrea Seward
Youth Community Service Award:
Adult Winner - Rebecca Griesse
Youth Winners - Teens Talk Founders Emma Beall, Yasmin Faruki, Brooke Ninman and David Summers
Rising Star Award - Betty Morrison
Marian Van Landingham Legislation and Public Policy Award - Mary Jane Nugent
Donna Bergheim Cultural Affairs Award - Rachel Alberts
Vola Lawson Award - Capt. Rodney Masser
Women's Health and Safety Award - Dr. Jane Grayson
Making a Difference Award - Patricia Rodgers
"I can't believe I am standing here," said Misha's Coffee owner Andrea Seward, winner of the Leadership in Business and Career Development Award. "There's Mrs. [Patsy] Ticer sitting in front of me and Vola Lawson and Marian Van Landingham on stage — these are the rock stars of Alexandria. I am so humbled to be in this crowd of women."
Held at the Carlyle Westin Hotel, this year's awardees included four T.C. Williams High School students who founded the Teens Talk program.
"We wanted to find a way to help teens empower other teens," Emma Beall said of the program that helps promote open dialogue on sex and teenage pregnancy between teens, their parents and the community.
Former Vice Mayor Mel Bergheim was on hand to present the Cultural Affairs Award, newly renamed to honor his late wife Donna, to The Little Theatre of Alexandria's Rachel Alberts.
"It was two years ago tonight that we lost her," said Bergheim, whose voice was breaking as he spoke of his wife's passion for the arts and love of the community. "She would be very humbled to have this award named in her honor."
Other winners included Dr. Jane Grayson, Betty Morrison, Mary Jane Nugent, Rebecca Griesse, Patricia Rodgers, Elsie Mosqueda and Capt. Rodney Masser, winner of the Vola Lawson Award.
"I was unprepared for this," said Masser, who founded the pink t-shirt campaign for firefighters that raised more than $9,000 for the city's Breast Cancer Fund. "This was really a department-wide effort to bring recognition to the Walk."
A newly unveiled women's History Tour brochure was presented to Jim Butler, husband of the late Susan Butler, before the recipients of the awards were announced.
"This is such an honor," said Rodgers as she accepted her award. "Making Alexandria a city where women and girls thrive will always be my inspiration."