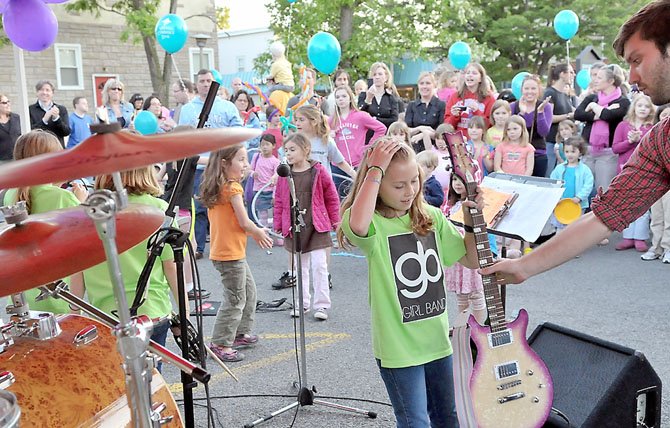 Alexandria — Record-breaking temperatures made it feel like Spring long before it became official March 21. And just as the blossoms all over town are breaking out of their winter hibernation, so are activities that make Alexandria come alive. From festivals to fairs, Little League games, theater classes and garden tours, Alexandria offers something for every form of Spring Fever.
Major highlights include the upcoming Virginia Historic Garden Week tours April 21-28 but there's no need to wait for a special event to enjoy the city's many attractions and diversions. Rising temperatures mean no more excuses for not getting outside and discovering what makes Alexandria so unique.
OUTDOORS
Enjoy the last few days of the Cherry Blossom Festival with a Blossoms by Bike Tour from Bike and Roll (703-548-7655) or a see the blooms by water with the Potomac Riverboat Company (703-548-9000).
Once the blossoms are gone, check out the tours to Mount Vernon by both companies or rent a bike for the day to tour historic Alexandria at your leisure.
The Potomac Riverboat Company is now in its third full season of offering water taxi service to Washington Nationals games, and the popular Pirates Cruises run from Memorial Day through Labor Day with the Canine Cruises beginning mid-June. The Skipjack Minnie V is a 90-minute hands-on sailing experience that departs from National Harbor (703-548-9000).
Walking is the best way to see the city and Alexandria Colonial Tours offers several tours in addition to the popular Ghost Tour. Check out the History of Alexandria Tour, the African American History Tour or the Faith and Heritage Tour (703-519-1749).
On your own, walk across the Woodrow Wilson Bridge, through Dyke Marsh or visit the Winkler Botanical Preserve on the city's West End.
The popular Mount Vernon Spring Wine Festival and Sunset Tour takes place May 18-20 (www.mountvernon.org).
Volunteer to be an "Angel in the Outfield" buddy or coach for the city's Miracle League team for special needs children and adults. For more information, contact the Sports Office (703-746-5402) or the Therapeutic Recreation Office (703-746-5422).
THEATRE
The Little Theatre of Alexandria performs the Agatha Christie thriller "Witness for the Prosecution" April 21-May 12 and "All the Kings Men" from June 9-30. The late night show "The Woman in Black" runs from June 1-23 (703)683-0496.
MetroStage opens "Be Careful, the Sharks will Eat You" April 4, which runs through April 22 (703-548-9044) and Port City Playhouse stages "Someone Who'll Watch Over Me" from April 20-May 5 (703-838-2880).
MUSIC
The Alexandria Symphony Orchestra hosts world-renown violinist Midori March 31 and April 1 with its season finale performance May 19 (www.alexsym.org).
The Eclipse Chamber Orchestra performs April 15 at the George Washington Masonic Memorial (www.eclipseco.org) while the 500-seat Birchmere is legendary for its variety of musical artists (www.birchmere.com)
FARMERS MARKETS
Alexandria offers several Farmers Markets in Old Town, Del Ray, Upper King Street, Four Mile Run and the West End (http://alexandriava.gov/FarmersMarket).
FESTIVALS
Del Ray's popular First Thursday events kick off in May and Hell's Kitchen reality show winner Rahman "Rock" Harper will serve as the celebrity judge at this year's Taste of Del Ray festival, scheduled for June 3 from 1 to 3 p.m. (www.visitdelray.com).
The Torpedo Factory Second Thursday art nights take place year round and feature a variety of arts and entertainment (www.torpedofactory.org).
HOME AND GARDEN
In addition to Virginia Historic Garden Week (www.VAGardenWeek.org), the Spring Garden Market at River Farm is April 13-14 (703-768-5700) and the Carlyle House Annual Garden Day and Craft sale will be held April 21 (703-549-2997).
More like this story