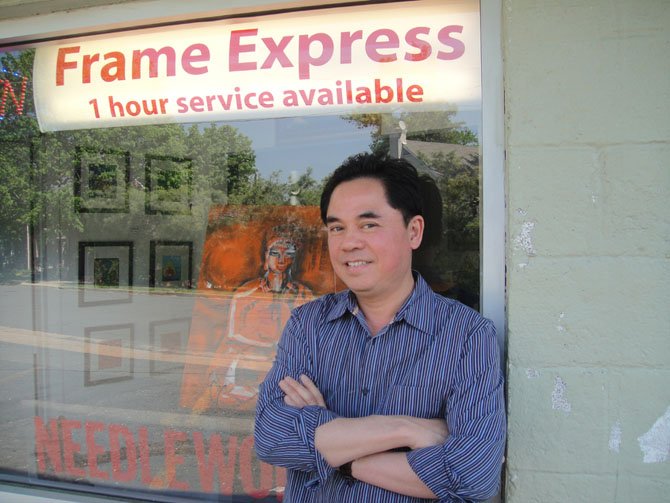 Nestled along the intersection of George Mason Drive and Lee Highway is the Arlington Arts Gallery, a hidden gem of diversity that highlights the work of local artists who come from an array of cultural backgrounds.
From a Russian defector, a Syrian Kurd to the Vietnamese rocket scientist turned painter, all the artists are American, and all are local.
Originally established 10 years ago as a showroom for Vietnamese work, the gallery has expanded in recent years following the decision by owner Duc Tan Nguyen to open his space to the wider community of artists.
"After a couple of years I found that Asian art is a bit limited, and I wanted to make a change," said Nguyen. "It's a luxury to be a gallery owner, and the gallery is getting better and better. Artists come and exchange opinions, it's a treasure to discuss art with other artists"
The vibrant spirit of the gallery, complete with a pristine interior, is the result of Nguyen's vision. Nguyen, himself an artist, first arrived in the United States from Vietnam in 1960 at the age of six, and attended art classes at the Corcoran. In 2001 Nguyen opened the gallery, and 10 years on he continues to attract an eclectic makeup of local artists.
Klara Sever, who works in sculptures, grew up as a child in Nazi Germany yet avoids the turbulence of her youth by honing in on themes of tranquility and peace. "My life was complicated by war at an early age, but it is not expressed," said Sever. "There is no direct message to the work, you can read into what you want, but if you are calm you've reached you're goal."
Works by Lukman Ahmad, a Syrian Kurd, emphasize vibrant colors and the importance of music to Kurdish culture. "Kurds have color and music. People can learn something, they can read into the background," said Ahmad. "It's the best way, to teach people about culture through art."
Bruce Scott brings to life his background as an African American. Scott moved from Gainesville, Va., to Arlington because of the art scene. His themes of famous African American individuals like J.J. Walker and John Coltrane are grounded in a surrealist style based on his study of Salvador Dali. "I'm African American, it's my background," said Scott. "Painting is my vice; mad, sad, glad, art is whatever moves you."
The gallery also hosts works by Barker Barzel, who defected from the Soviet Union in 1972 to Israel where she met her husband. Barzel's pieces focus on her travels, from her time in Israel to Indonesia where she was moved by the grief of the 2004 Tsunami that claimed over 230,000 lives. "Some of my work is tragic; I painted a mother who was grief stricken from the tsunami, but her baby was found, it was a miracle," said Barzel. "It is a joy to share my work with others."
Although the Arlington Arts Gallery hosts work from a multitude of artists with various cultural backgrounds, the gallery maintains a degree of focus on its roots: approximately half of the pieces are by Asian artists. Truong Vu, who left Vietnam by boat in 1976, is a late bloomer in the art world. His attention-grabbing works are in sharp contrast to his background as a rocket scientist with NASA. "I loved painting since I was young, but when I was with NASA there was not a lot of spare time," said Vu.
The price point for many of the works ranges between $100 to a few thousand dollars. Despite the high caliber of the work, the unique backgrounds of the artists and the modest prices, Nguyen notes this is a difficult economic period for the art world.
"Now is a difficult time for art. When people buy a house they need paintings, but because the housing market is slow, art is also slow," said Nguyen. "People come and enjoy taking a look, they plan and think about what they want, so I keep going. Art is like food for the spirit."