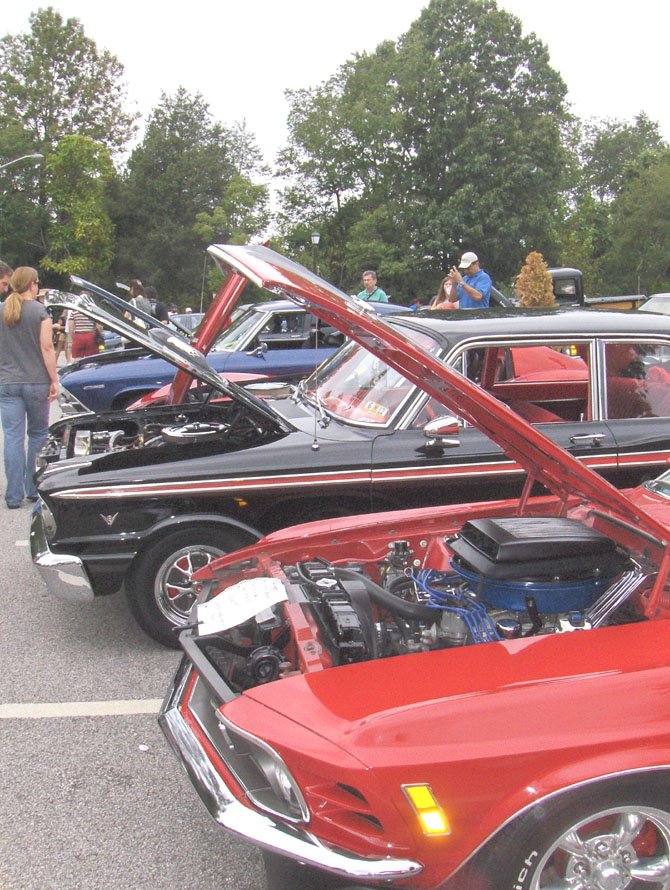 Chantilly — Promising fun for the whole family, the area's first-ever Chantilly Day will burst upon the scene Saturday, May 12, at the Sully Place Shopping Center, off Route 50 West. There'll be a parade, children's activities, a car show, live music, food and entertainment galore.
The festival will run from 10 a.m.-4 p.m. in the parking lot near Babies R Us, followed by a free concert from 4-6 p.m. Kicking things off at 9:30 a.m. will be a parade along Metrotech Drive.
The grand marshal will be Supervisor Michael R. Frey (R-Sully), and both the Chantilly and Westfield high school marching bands will perform. There'll also be a color guard, fire engine from Chantilly Fire Station 15, a pet parade, plus other business and community groups.
The parade is open to all area residents. People from Centreville, Chantilly, Clifton, Fair Oaks, Fair Lakes, Fairfax, South Riding, etc., are welcome to participate; just e-mail the organizing team at info@chantillyday.com. People with pets and children with decorated bikes, scooters, etc., are also invited to march in the parade. Staging will be behind Babies R Us. Brittani Poindexter will sing the National Anthem, and Roy Eppard will be the parade announcer.
Saharnaz Farivar is the coordinator of the Chantilly-Centreville Chamber of Commerce — an offshoot of the Dulles Chamber — and this organization and the Westfield Business Owners Association are jointly sponsoring Chantilly Day. Farivar is president of SF Design Group of Chantilly, and it was her idea to hold such an event.
Dulles Regional Chamber of Commerce President Eileen Curtis has also been instrumental in the planning of Chantilly Day, and she, too, is excited to see it come to fruition.
"We're delighted to be a part of such a fresh and exciting community development," said Curtis. "We look forward to making this a successful and anticipated event, both now and in years to come."
Thousands of people and more than 100 local businesses are expected to be at the festival. Local restaurants will offer some of their tastiest fare at the Taste of Chantilly, and the children's area will include activities such as a train ride and a rock-climbing wall.
There'll be onstage performances from 10:40 a.m.-4 p.m., with a deejay making announcements and playing music during breaks. Then from 4-6 p.m., The Merchants of Cool will give a free, rock concert.
A pet adoption will be held from 11 a.m.-4 p.m. on the grassy area in the Babies R Us parking lot, and a variety of pets will be available to good homes. This event is sponsored by Northern Virginia Veterinary Associates and will be run by A Forever Home.

The car show will rev up from 11 a.m.-3 p.m. in the parking lot in front of K-mart. It'll feature an assortment of classic cars, with the showpiece being BB&T's NASCAR racecar, a Richard Childress Racing vehicle.
A Taste of Chantilly will be offered from 11 a.m. to 5:30 or 6 p.m. Several restaurants are participating, including Chick-Fil-A, WaBa Grill Teriyaki House, Don Churro CafÈ, Hooters, Papa Murphy's Pizza and Creekside Bakery.
The children's fair will be surrounding the pet-adoption area. Children will be able to enjoy a rock wall, rides on a trackless train, moonbounces and other inflatables, games and a 60-foot obstacle course.
Awards for Educator of the Year, businesses and nonprofit groups will be presented at 11:30 a.m. Farivar will honor student essay-contest winners, and a people's-choice award will be given to the favorite car in the show. There'll also be a special presentation to two representatives from the mayor's office in Chantilly, France. They're giving an award and will also have a booth where they'll talk about their city.

The theme for Chantilly Day is "Remember Yesterday, Celebrate Today, Embrace Tomorrow." Farivar wants residents to be able to know more about their community — past and present, appreciate what it has to offer and work toward an even brighter future.
Toward that end, people will also be encouraged to visit Sully Plantation and the National Air and Space Museum's Udvar-Hazy Center, and shuttles will be available that day to take them to and from the festival and Sully Plantation.
Both Westfield and Chantilly High will have tents in the business expo area. Westfield is still finalizing the components it will highlight, but Chantilly will feature entities including its performing arts, Hispanic Leadership Club, athletic boosters and PTSA. Art Department students will sell their work and paint children's faces. The Chantilly Academy will also bring a large contingent to showcase its many offerings.
For example, cosmetology students will do hair braiding and extensions, carpentry students will show a picnic table and shed they constructed, and members of the robotics club will bring the basketball-shooting robot they built. The animal science class will let residents know they may bring their pets to them for grooming, and the auto tech class will display a car it repaired that was then featured in the Washington, D.C., Car Show.
In addition, both the Westfield Jazz Band and Chantilly Jazz Band will perform onstage; and at 2:45 p.m., Chantilly's Junior Air Force ROTC drill team will entertain the crowd with its precision marching.
Sully Place Shopping Center owner, Beatty Management Co., donated the space for the day's festivities. Parking is in the K-mart, Lowe's and Lotte parking lots. Roads will only be closed for the parade from 9-10:45 a.m., and traffic will still be able to flow around most of Metrotech Drive.
Go to www.chantillyday.com for registration information, plus more ways to get involved. Anyone interested in marching in the parade, entering the car show, participating in the business expo or volunteering should contact the event organizers at info@chantillyday.com.