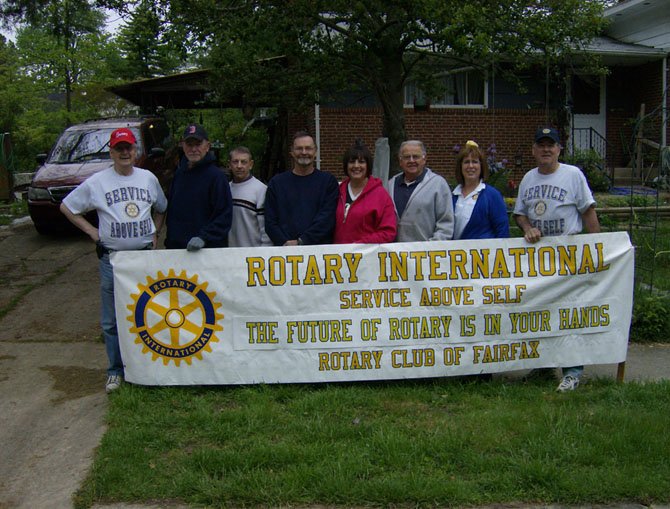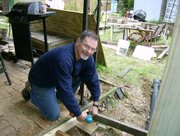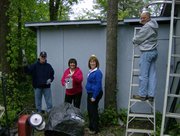 A much-needed handicap access ramp and minor exterior home repairs were provided to a deserving Fairfax City resident on Saturday, April 28 as part of the Fairfax Rotary Club's annual Service Above Self Project. The homeowner was selected by Fairfax City's Department of Human Services as one of many residents with special needs. Armed with wood, saws, hammers, nails, paint and other assorted tools and materials, project chairman Paul Gauthier was joined by a task force of Fairfax Rotary Club members early Saturday morning. Together, they were able to complete the project on time, despite the looming threat of rain.
The Service Above Self Project traditionally takes place on the last Saturday in April and has been an annual event for the Fairfax Rotary Club for the past 20 years. The goal is to help local homeowners who otherwise would not have the resources to maintain their properties.
The Club conducts a number of fundraisers throughout the year in order to fund the Service Above Self Project and other programs which support the Northern Virginia community.
The Fairfax Rotary Club is nonreligious and nonpolitical, and is open to every race, culture and creed. The members represent a cross-section of local business, professional, and community leaders.
The Rotary Club of Fairfax meets on Mondays at 12:15 p.m. at the American Legion Hall on Oak Street in Fairfax City. For more information about the Rotary Club of Fairfax, visit the club's website at www.fairfaxrotary.org. Or email Rotary Club of Fairfax's Executive Director Irby N. Hollans, Jr., at ihollans@earthlink.net.