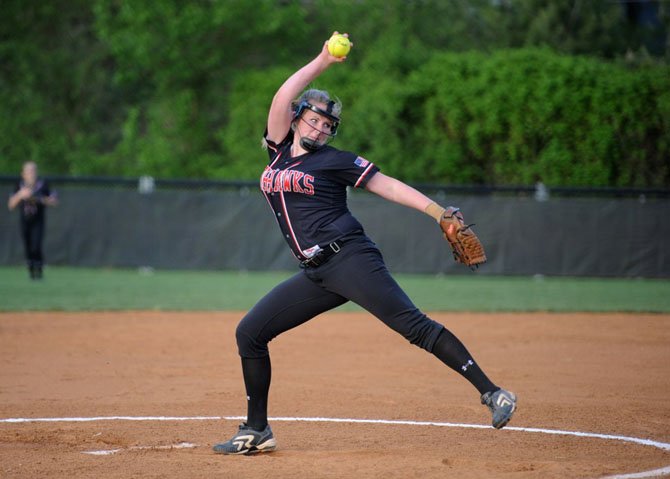 Vienna — The Madison Warhawks lost a 13-2 decision to Stone Bridge in a Liberty District girls' softball game with first place on the line last Friday night, April 27. The Warhawks, with the setback, saw their eight-game win streak snapped.
Madison jumped out to an early 2-0 lead, scoring two runs in the first inning. But after that, the Bulldogs cruised to the five-inning victory.
Madison sophomore Tori Lipnicky started off the game with a single and freshman Jackie Yahner followed with an RBI triple to give the Warhawks a 1-0 lead in the first. Sophomore Kat Olson then hit a sacrifice fly, scoring Yahner for the Warhawks' second and final run. Brittany Powers had Madison's only other hit on the night.

All in all, it was a night in which Stone Bridge hit the ball extremely well while Madison had a tough game defensively in the field.
Earlier last week, on Tuesday, April 24, the Warhawks edged local and district rival Marshall, 5-4. Madison, in the game at Marshall, jumped out to a 5-0 advantage, but Marshall fought back with two runs in both the sixth and seventh innings. The Statesmen had the tying run on base when the contest ended.

Kelsey Ross, Madison's pitcher, went the distance for the Warhawks, giving up two earned runs on three hits while striking out three. Ross was also the star on offense, going 3 for 4 and driving in three of the Warhawks runs.
Elizabeth Fallas also went 3 for 4 on the night. Other Warhawks with multi-hit games included Ally Grasso (2 for 4, double) and Mary Bolinger (2 for 4). Tori Lipnicky (1 for 4, triple) and Kat Olson (1 for 4) added the Warhawks' other hits.
Defensively, Madison committed three errors which contributed to two unearned runs for Marshall. Kat Olson had an outstanding night in the field, including a highlight reel catch on a foul ball in the fourth inning. Ross also handled six comebackers and turned a double play on a line drive in the fifth.
This week, Madison was scheduled to play district games at South Lakes on Tuesday and at home versus Langley this Friday night.