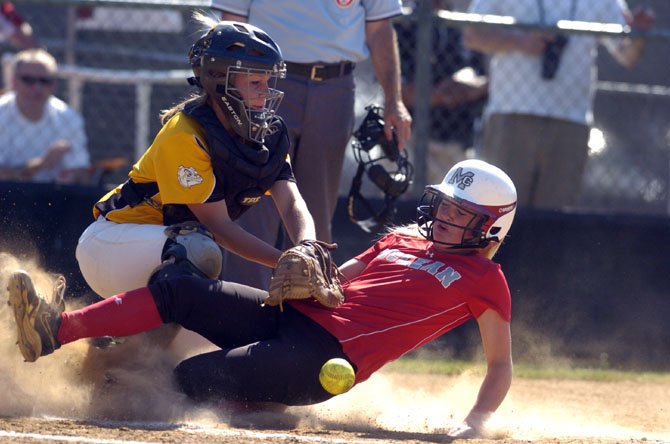 Centreville — The Westfield High girls' softball team, over the final few weeks of the regular season, will be looking to get back into the winning mode that was such a prominent characteristic of its season through mid-April.
The Bulldogs, an annual Northern Region power and last year's region champion, went into this spring season less heralded than usual. Westfield had lost numerous key players from last year's Concorde District and region title team to graduation and, naturally, was not expected to be the same high level outfit.


But Westfield was 7-3 and playing good, solid ball through 10 games. In Concorde District play, the team was 3-0. Head coach Dean Ferington was pleased with the Bulldogs strong showing through the spring season's first month.
But three straight district losses have put Westfield at 7-6 overall and 4-3 in the district. The tough three-game stretch began with a 7-3 loss at upstart Herndon on April 20, followed by a home loss to Oakton, 5-2, four days later. Then last Friday night, the Bulldogs lost at Chantilly, 3-0.
Westfield was looking to get back into the winning groove this week with district games at Robinson on Tuesday, May 1 and home versus Centreville this Friday night, May 4 at 6:30.
Westfield won at Centreville, 7-4, in the first season meeting between the local rival teams on April 17, the Bulldogs last win before the three straight losses.
WESTFIELD has received good seasons from its three seniors – catcher Lexi Scoville, outfielder Kayleen Bell, and first baseman Carrie Otroba. Last year, the trio looked up to the 2011 team's senior leaders. This season, they are the leaders.
"They are playing extremely well," said coach Ferington, earlier this month. "It has been different for them in that they are doing the pulling of the young [ones] instead of being pullled. I have expected a lot out of them and am very pleased in their play, leadership and maturity."
Westfield has been hit by the injury bug with junior pitchers Keona Gaines and Meaghan Heinecke being sidelined for extended periods of time. Caitlyn Rudy, another 11th grader, has done a good job on the mound in their absences.
Westfield will wrap up its regular season schedule next week with district games versus Herndon (at home, 6 p.m. on Tuesday, May 8) and Oakton (away, 6:30 Friday, May 11). Westfield will celebrate its Senior Night against Herndon.
The six-team Concorde District tournament is set to begin with first round games on Wednesday, May 16.
More like this story