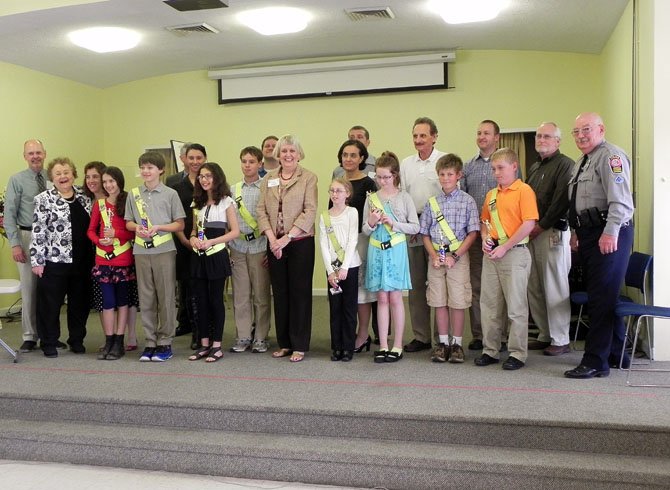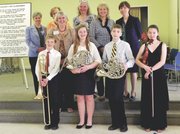 The musicianship of four students from Cooper and Longfellow middle schools was recognized by the Woman's Club of McLean at a ceremony on Tuesday, May 1, where the students also performed on their instruments. Kerry McConnaughay and Will Pivik, of Cooper Middle School, played duets for the French horn by Voxman. William Sheridan, of Longfellow Middle School, played Sonata No. 1 for Trombone and Piano, by Galliard, accompanied by music teacher Laura Marchisotto. Jillian Khoo, also of Longfellow school, played the first movement of Mendelssohn's Violin Concerto in E Minor, performing this popular and notably difficult piece in a highly professional manner. She was accompanied on the piano by her father, Bernie Khoo. The four students each received an award of $100 from the Woman's Club.
Ten students at elementary schools received awards for their significant contributions as safety patrol members. The honorees were: David Gralla and Victoria Gralla, of Chesterbrook Elementary; Nour Khachmoune and Mason Liddell, of Churchill Road Elementary; Olivia Dempsey and Liam McMillan, of Franklin Sherman Elementary; Maximilien Engel and Liana Keesing, of Kent Gardens Elementary and Brian Dedell and Anna Marie Harris, of Spring Hill Elementary. In addition to the trophy each student received, the safety patrol program at each school has received an $80 donation from the Woman's Club for program equipment.
The students' parents and the school principals, music directors and patrol sponsors attended the ceremony, as did Officer Tom Harrington, school resource officer of the Fairfax County Police Department. The award ceremony is an annual event of the Woman's Club of McLean.