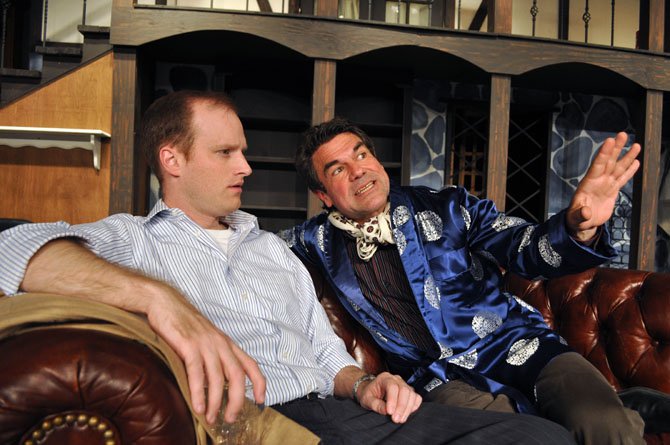 "You're loving it. You're in a high state of brilliance and excitement." So says one of the characters in the Providence Players of Fairfax next production, the whodunit "Sleuth."
"This is a show where nothing, absolutely nothing is as it seems," said Beth Hughes-Brown, director of the production. "This is a magnificent, suspenseful play in which each word and every sentence is meticulously placed and always for a reason. It is a play in which the English language is used as a weapon."
According to Hughes-Brown and her two lead actors, Derek Bradley and Mike Donahue, "there is much treachery in this mystery. The audience may never really truly know until the final curtain what is imagination and what is reality given all the twists and turns."
What is "Sleuth" all about? It revolves around a popular mystery writer who lives in a world of his own making, one reflecting his obsession with games and game-playing. It is a world full of complex, convoluted moves set off as private marital matters come to light; or do they? And from there, things seem to go astray. Yet to Hughes-Brown, "the audience will like both main characters, though things do fall apart between them and dissolve rather quickly essentially over a woman."
"Sleuth" was the winner of the 1971 Tony Award and Drama Critics Circle Award for Best Play. It was written by Anthony Shaffer and ran for 1,222 performances on Broadway.
"Audiences are in for quite a ride; an exciting ride as they follow all that is before them. And we want to meet all the heightened expectations that the audience has for this puzzle of a mystery play," said Bradley. "There is simply a notable synergy between actors in the show. We feed upon each other and that gives us great energy."
Where and When
Providence Players of Fairfax, James Lee Community Center Theater, 2855 Annandale Road, Falls Church. Performances: May 18-June 2. Thursday, Friday, and Saturday at 7:30 p.m., and Sunday matinee May 20 and May 27 at 2 p.m. Tickets: $15-$18. Call 703-425-6782 or visit http://www.provid...">www.providencepla...
Mike Donahue, who plays the mystery writer, said, "This is a wonderful script. There are meaty roles with lots of challenging levels for an actor to perform." He went on to say, "We want to leave the audience to wonder always what is coming next, so that when they walk out the door after seeing the show they will mutter with a smile, I didn't see that coming."
"This is a play in which things are bewildering and entertaining. It's just a great show with language like special poetry with wonderful rhythms and rhymes," concluded Donahue.