Dorothy P. Miller (Jane) died of complications following surgery in Woodland Hills, Calif., on April 27, 2012. Dorothy was the daughter of the late John P. and Dorothy Shepherd of London, England. She is survived by her son Michael Miller and his wife Jane of Springfield, Va., her daughter Mary Jane Seebach and her husband Steven of Newbury Park, Calif., a cousin Anne Farnario and her husband Jack of St. Clairsville, Ohio and a sister-in-law Alice Jennings of Bellevue, Washington. She is also survived by three grandsons, Philip Miller of Rockville, Md., Ian and Spencer Seebach of Newbury Park.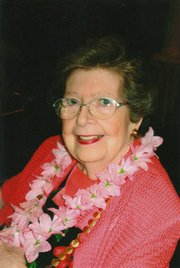 Dorothy was born in London, England on May 11, 1926. During World War II to help the war effort, Dorothy helped to assemble radar units. After, the war, Dorothy worked in the visa section of the American Embassy in London. Because there were several women named Dorothy working at the Embassy, they asked her to pick a name and she chose Jane, a name she continued to use in her social and professional life. While at the Embassy, Dorothy also met and married Paul Miller (deceased), a vice consul in the American Foreign Service.
After their marriage, Dorothy and Paul served in numerous overseas assignments including Liverpool, England, Switzerland, Northern Ireland, Hong Kong (twice), Philippines, Japan and Taiwan (twice). While on duty overseas, Dorothy actively volunteered with the American Red Cross and other local charities. Upon their return to the U.S., Dorothy and Paul settled in Alexandria. Dorothy worked with the founders Marjorie Land and Joan Miller of the Market Square Shop in Old Town Alexandria. She also worked in the medical offices of Drs. Fifer, Amole and Brown, and the law offices of Ross, Marsh and Foster. Dorothy was also a sales associate in the silver department at Garfinckels, the department store in Washington, D.C. During her tenure at Garfinckels, she was a sales associate of the year three times and selected to the store's Hall of Fame.
After retiring, Dorothy moved to California to be close to her daughter and her family. Dorothy had been a resident of Sunrise Assisted Living in Westlake Village, Calif. since 2004. Dorothy leaves behind many friends on both coasts and will be deeply missed.
A memorial service will be held at the Church of the Epiphany on June 9, 2012 at 4 p.m. In lieu of flowers, contributions can be made to Daughters of the The British Home in California, Ltd., 647 Manzanita Ave., Sierra Madre, CA 91024.