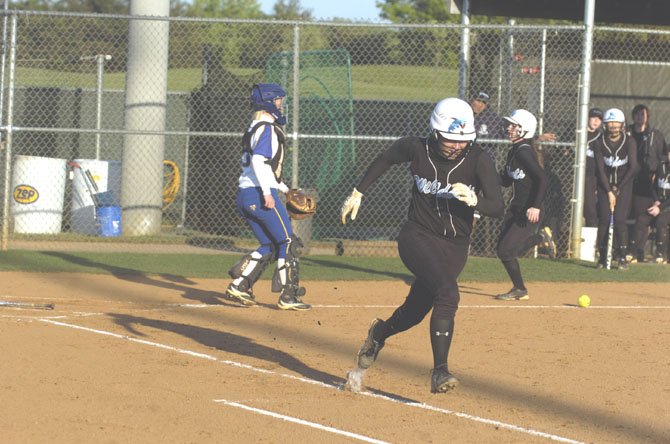 Centreville — The Centreville High girls' softball team is playing its best ball at the right time of the spring with the regular season winding down and the postseason just ahead.
Going into this week, the Wildcats (9-9 overall, 4-4 in the district) had won three straight games, all of them district encounters, since a 1-0 shutout loss at cross-town and district rival Chantilly on April 24.
The recent wins have come over visiting Robinson, 9-2, on April 27; at Herndon, 8-5, on April 1; and at defending Northern Region champion Westfield, 11-6, last Friday night, May 4.
By winning those three games, Centreville's record went from 6-9 to 9-9 overall, and from 1-4 to 4-4 in district outings.
"I think my team is headed in the right direction at the right time," said Centreville head coach Donnie Dutton. "We are starting to play to win every pitch and that is what it takes to be successful."
Centreville would love to wrap up the regular season in similar fashion this week with games versus Oakton and the regular season-finale at home versus Chantilly this Friday night, May 11 at 6:30. The Wildcats will be celebrating their Senior Night at Friday's game against the Chargers.
The district tournament is scheduled to begin next Tuesday, May 15. Centreville will need to win its quarterfinals round game in order to qualify for the following week's 16-team Northern Region tournament.
DUTTON IS CONFIDENT his team will continue to play at a high level for the postseason. But he also realizes the playoffs are always a challenging road where opponents, playing for their seasons, will probably be at or near their best.
"I believe that the district playoffs are always tough," said the coach. "We have what it takes to win in the district playoffs and to make it to the regional rounds."
Most teams across the Northern Region view the postseason as the opportunity to put everything together and make strong playoff runs at their respective district tournaments and the region tournament. Four teams from each of the region's four districts (Concorde, Patriot, Liberty, and National) will qualify for regionals.
Once teams get to regionals, they are two wins away from advancing and competing at the festive Memorial Day semifinals games. The teams which win those region round of four contests advance to the region title game and also qualify for the eight-team Virginia State playoff field.
Last year, Wesfield High captured the region crown with a title game win over McLean.
There is lots of softball yet to be played and there is nothing wrong with teams dreaming about the postseason possibilities.
"Our ultimate goal of course is to make it to the state rounds," said Dutton, who believes the Wildcats will enjoy a successful postseason if they keep improving.
The Centreville 12th graders who will be honored this Friday night during Senior Night celebrations are: Courtney Burke, Gisela DeConti, Haylel Holmes, Kara Love, Lexi Murdock, and Fiona Watson.