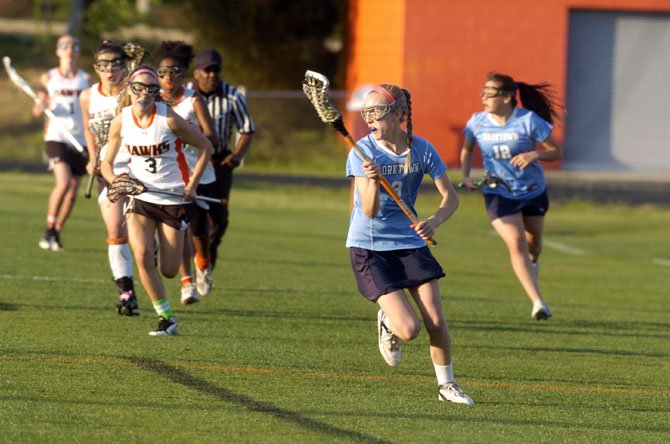 Springfield — The Yorktown girls' lacrosse team entered the 2012 National District tournament final against Hayfield with the reputation of a six-time defending champion. The Patriots' first-half performance, however, suggested a changing of the guard was in order.
Hayfield, which defeated Yorktown during the regular season, led 6-2 at halftime of the May 10 rematch. After losing to the Patriots in the district championship game each of the last two seasons, the Hawks appeared ready to break through. But after an action-packed second half and three overtime periods, it was Yorktown celebrating a seven-year stranglehold on the district title.
Junior midfielder Meaghan Galvin scored in sudden-death overtime to lift the Patriots to a 9-8 victory at Hayfield Secondary School, giving Yorktown its seventh consecutive district championship. The No. 2-seed Patriots overcame a four-goal deficit in regulation and erased a Hayfield lead in the second overtime period to defeat the No. 1 Hawks.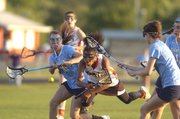 "It's an amazing feeling," Yorktown head coach Crystal Morgan said. "We've worked so hard to maintain this and keep up our tradition — the Yorktown legacy of winning the district championship each year."
With the score tied 7-all at the end of regulation, the teams moved on to a pair of three-minute overtime periods. After a scoreless first period, each team scored a goal in the second period, forcing sudden death. Galvin deposited the game-winner midway through the initial sudden-death period, sending the Patriots into a state of jubilation.
"At that point," Galvin said, "I just wanted to get it in the goal."
Hayfield took an 8-7 lead when sophomore midfielder Emily Ryan scored with 1:16 remaining in the second overtime period, but Yorktown freshman Kristen Somers answered 11 seconds later to tie the score and force sudden death.
"That shot," Morgan said of Somers' clutch goal, "saved us."
Yorktown trailed 6-2 at halftime, but the Patriots opened the second half with goals by Somers, sophomore midfielder Emily Spack and Galvin. After Hayfield's Ryan scored with less than 10 minutes remaining to extend the Hawks' lead to 7-5, Yorktown senior captain Ella Richardson willed the Patriots into overtime, using an aggressive mentality to score the final two goals of regulation.
"It's an amazing feeling. We've worked so hard to maintain this and keep up our tradition — the Yorktown legacy of winning the district championship each year."

— Yorktown girls' lacrosse coach Crystal Morgan
"It was definitely one of the hardest wins we've ever had," Richardson said. "It was a very tough game, very stressful game and it feels great to win. It's exciting to win like that — by one in [sudden-death] overtime — and I'm really proud of how we played together. … I just really wanted it, so I went for it. I'm glad I did."
Both of Richardson's goals came in the final six minutes.
"She is always someone you can count on," Morgan said. "She will take it straight to goal and show no mercy. She's a go-getter. She's aggressive on offense and defense. When she wants it, she really wants it and she really showed good leadership tonight."
Morgan also praised the effort of freshman goalkeeper Erin Morrissey.
"I was so proud of Erin," Morgan said. "She was stopping point-blank shots. She's young as a freshman, but she's a great player. She'll be great for us for the next couple of years."
Galvin led Yorktown with three goals. Somers and Spack each had two.
Ryan led Hayfield with three goals. Sophomores Brenna Thomas and Leah Brennan each scored two goals and sophomore Mara Dorsey had one.
After joining the National District during the 2009-10 school year, Hayfield lost its first four meetings with Yorktown, including the 2010 (9-8) and 2011 (16-8) district championship games. This year, the Hawks defeated the Patriots in the regular season, 7-6, on April 13, helping Hayfield lock up the tournament's top seed. After losing two district finals on Yorktown's home turf, Hayfield earned the right to host, but still came up short.
"I honestly think that the loss that we had to them during the regular season was almost like a blessing in disguise," Morgan said, "because it made us realize we can't just come in and roll over teams … That just made us want to win it even more."
Morgan was named National District Coach of the Year for the 2012 campaign. Spack earned first-team all-district as an attacker, Galvin, Richardson and junior Jennie Basile were first-team midfielders and senior Katie Sondheim was a first-team defender.
Senior Maddy Ernesto (attack), junior Tori Haling (midfield), junior Sarah Acs (defense) and Morrissey (goalkeeper) made the all-district second team.
Yorktown will host West Potomac at 7:30 p.m. on Tuesday, May 15 in the first round of the Northern Region tournament.