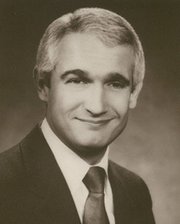 The 2012 inductees into the Arlington Business Hall of Fame will be honored at the 26th Annual Arlington's Best Business Awards (ABBIEs) held by the Arlington Chamber of Commerce on Tuesday, May 22 from 7:30 to 9:45 a.m. at the Sheraton National Hotel.
This year's inductees are David Guernsey, president and CEO of Guernsey Office Products; Henry "Hank" Lampe, stockbroker and former state legislator, and the late Robert "Bob" Peck, founder of Bob Peck Chevrolet. Peck will be honored posthumously.
Hall of Fame inductees have a historical connection with Arlington County and have demonstrated excellence in business, dedication to the success of others, vision, innovation, inspiring leadership, a continuity of excellence and achievements, and exceptional civic and community involvement.
The Arlington Business Hall of Fame began in 2009 to recognize contributors to the business community who invested their lives in giving back to those around them.
In addition to the Hall of Fame inductions, some of Arlington's best businesses will be awarded at the Best Business Awards. Each year, the Arlington Chamber of Commerce recognizes outstanding businesses in the community with the prestigious Best Business Awards (ABBIEs). These awards are earned by businesses that deliver exceptional quality of service to their customers, are industry leaders, or offer a unique approach to delivery of goods and services. They each also display an interest in and concern for the Arlington community.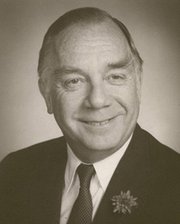 Those interested in attending the awards can register online or by calling the Chamber office at 703-525-2400. Tickets are $45 for Chamber members and $55 for non-members.
The 2012 Arlington Business Hall of Fame inductees:
David Guernsey currently serves as president and CEO of Guernsey Office Products, Inc.; a family-owned business since 1971 that operates primarily in the mid-Atlantic region. He served as Arlington Chamber Chairman in 1985 and the Fairfax County Chamber chairman in 2000. Currently, he serves on the board of several local organizations and the Northern Virginia Transportation Alliance. Most recently he joined the board of National Federation of Independent Business, serving as its vice-chair.
Henry "Hank" Lampe was employed as a government worker and transportation planner, as well as a stockbroker, with a long record of civic activities since 1964. Over time, he has been a member of the Northern Virginia Regional Planning Commission, an elected member of the General Assembly of Virginia, Vice Chair of the Virginia Metropolitan Areas Transportation Study Commission, a delegate to the White House Conference on Aging, a member of the Arlington Commission on Aging, chair and president of the Northern Virginia Mental Health Association, and on the Board of Trustees at Arlington Hospital. He has also served on the Board of Visitors for George Mason University and as chair of the Arlington Chamber of Commerce (1990).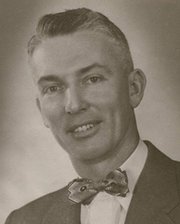 Robert "Bob" Peck opened his dealership in 1939 at 2825 Wilson Boulevard. When the business outgrew that location, Peck moved it to the corner of Wilson Boulevard and Glebe Road, where it became one of Arlington's most recognizable structures. Many long-term Arlingtonians remember the iconic Bob Peck Chevrolet dealership, as well as his memorable commercials. He remained the proprietor until he was nearly 80 years old. His son, Don Peck, ran the business until it closed in 2006, and will be accepting the award on his behalf. Peck served as chair of the Arlington Chamber of Commerce in 1956.