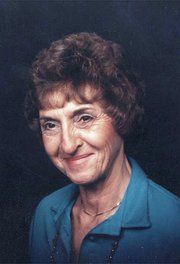 Diana Janice Richards of Centreville, Va. passed away peacefully from cancer on May 9, 2012. She was born in 1939 in upstate New York, daughter of John R. Schmidburg and Rose Hornick. She grew up in New York and married her husband, William Bruce Richards, in Switzerland while he was stationed in Germany with the American Red Cross. Upon returning to the States, they adopted three boys while living in Washington, D.C. and Prince Georges County, Md. In 1972, they moved to Burke, where she remained for over 35 years. Diana was very active in the community.
She and Bruce both served as presidents of the Lake Braddock Community Association. She started the mulch site and worked very closely with Sharon Bulova in reducing the tipping fees for local communities at the sanitary landfill, and was at the forefront of the recycling movement in the late '80s for Fairfax County. She was very involved in the start of the Fairfax Fair when it was held at George Mason University, was nominated as Lady Fairfax, served as the Awards Chairperson for the Fairfax County Fair, was an active member of both the Citizens Task Force for Annandale (now Braddock) District and the Fairfax County Policy Review Board and served as the Campaign Precinct Chairperson of the Lake Braddock Community.
Diana chose to stay at home with her children while they were young and worked part time for Fairfax County Schools at Lake Braddock Secondary School. She later started a successful cleaning business called the Mopp-its. She sold the business after she was diagnosed with breast cancer in 1986. She had a second battle with breast cancer in 1990, which she battled successfully. Diana continued working at Guernsey Office Products, and she enjoyed watching movies and spending time with her grandchildren.
She was a member of Fairfax Christian Church in Fairfax and Little River United Church of Christ in Annandale. Diana was preceded in death by her husband Bruce and her parents. She is survived by her three sons, Gregory Richards and wife, Karen, of Springfield; Jeffery Richards of Los Angeles, Calif; and Adam Richards and wife, Tammy, of Wake Forest, N.C.; her sisters and brother, Gloria Schultes of Tampa, Joan Mioduser of Fort Lauderdale, Margaret Mills of Los Angeles; Martin Magone of Woodbridge; and her grandchildren, Christine Glockzin, Elizabeth Glockzin-Westbrook, Rachel Blakely, Dustin Richards, Kody Richards and Frida Richards; and many nieces and nephews.
In lieu of flowers, the family asks that donations be made to Hospice of Queen Anne's in Centreville, Md. or Graceful Care at 1468 Waterfront Road, Reston, VA 20194-1250, http://www.gracefulcare.com. Memorial service is June 2, 10 a.m. at Little River United Church of Christ, 8410 Little River Turnpike in Annandale.