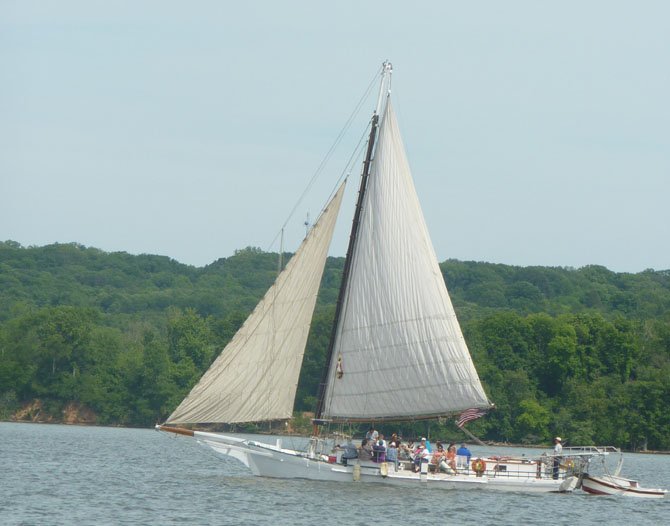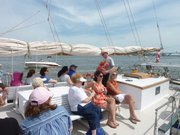 The distinctive click of digital cameras filled the air as a crowd of onlookers gathered May 12 to capture the historic skipjack Minnie V. departing on its maiden voyage from the Alexandria City Dock.
"The skipjack is a historic boat," said Capt. Robert Laurence prior to the inaugural sailing. "The Minnie V. really belongs in a historic port like Alexandria."
After spending two years docked at National Harbor, the Minnie V. will now call Alexandria home after an agreement was reached between the Potomac Riverboat Company and city officials.
"We were in talks with the Waterfront Commission and city staff for some time about docking the Minnie V. in Alexandria," said company vice president Charlotte Hall. "When Willem [Polack] came up with the idea to build floats alongside the Cherry Blossom, an agreement was reached to allow the skipjack to dock there."
Built in 1906, the 45.3' long sailing craft was designed to dredge for oysters, once a mainstay of business along the Potomac River. A traditional Chesapeake Bay skipjack, the Minnie V. is a member of the last commercial sailing fleet in the nation. Still the state boat of Maryland, fewer than 30 skipjacks remain in operation today.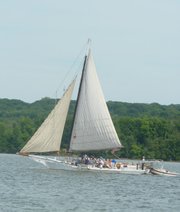 "Where we go depends on the winds," said Laurence, who raises the massive sails up the 57-foot tall mast once the skipjack leaves the dock. "Today the winds are coming up from the south, which will make for a nice sail up the river."
Capable of speeds up to seven knots (approximately 8 miles per hour), the tour lasts between 90 minutes and two hours. During that time, Laurence and his crew regale passengers with tales of maritime life on the Potomac River and the history of the Minnie V., which was listed on the National Register of Historic Places in 1985.
Sailings on the Minnie V., which was once featured in the "Homicide: Life on the Streets" television series, are now available on Saturdays and Sundays. From Memorial Day through Labor Day, sailings will take place Friday, Saturday and Sundays.
"The Minnie V. is a wonderful piece of living history," Hall said. "We are very excited to have her here in Alexandria."
For more information about the Skipjack Minnie V, call 703-684-0580 or visit www.potomacriverboatco.com.