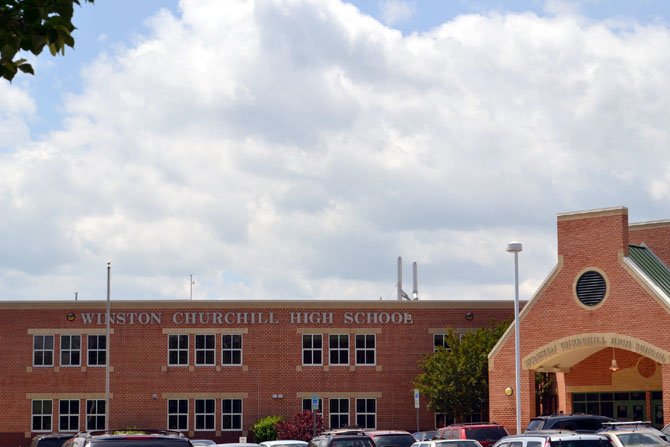 U.S. News and World Report has named Potomac's Winston Churchill High School the best high school in the state of Maryland, and 57th in the nation.
Churchill was among nearly 22,000 schools across the country that were evaluated on factors such as how well the school prepared students for college, and how each school's students performed on state proficiency tests when compared to other students in the state.
"We at Churchill are thrilled that we have been identified by U.S. News and World Report as the number one school in Maryland," said Dr. Joan Benz, principal of Churchill High School. "Our number one rank is a tribute to the daily hard work of Churchill students and their dedicated teachers. We are also immensely fortunate to have parents and a community that is highly supportive of rigor in education. Our school and community focus is consistently on the preparation of our students academically, socially, and emotionally so that they will achieve continuing success in their post-high school endeavors."
Potomac resident Roya Hakimzadeh, whose son Dariush Youssefiani is an 8th grade student at Herbert Hoover Middle School and will attend Churchill in the fall, is excited about the ranking. She had considered independent school options, but ultimately settled on Churchill.
"This ranking is great news," said Hakimzadeh. "I've talked to a lot of parents with children at Churchill and they area very happy with the educational system, and I know that students there get accepted into very good colleges and universities."
Dariush is enthusiastic about the school's academics and extracurricular offerings. "It is the best mix of academics and sports," he said. "I swim and they have a good swim team."
Montgomery County Superintendent of Schools Joshua P. Starr said that while the U.S. News and World Report rankings are not flawless, they allow the public to see how schools compare with others when judged on the same criteria.
"The Best High Schools ranking is another indicator that, overall, MCPS is doing a great job preparing students for college and careers," Starr said. "We celebrate the accomplishments of the schools on this list and remain focused on helping all schools improve teaching and learning in order to best serve the needs of our students."