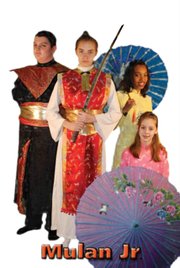 Northern Virginia Players will present Disney's Mulan Jr. beginning Saturday, May 25 at Burke Community Church.
The heartwarming tale begins when the Huns have invaded China, and it's up to misfit Mulan and her mischievous sidekick Mushu to save the Emperor. Mulan is a celebration of culture, honor and the fighting spirit, includes musical favorites such as "Honor to Us All."
"This production features 64 actors ranging in age from 6 to 18," said Ann Eul the show's director, who has worked with children in theater for more than 15 years. "This action-packed story is sure to thrill audiences of all ages."
Northern Virginia Players is an all home school theatre troupe giving young people from all backgrounds, cultures and lifestyles the opportunity to produce professional quality plays while providing outstanding entertainment to the community.
In honor of those who serve, Northern Virginia Players will donate 10 percent of the ticket proceeds for the Memorial Day weekend shows to the Wounded Warrior Project. "We want to thank our men and women in uniform for their courage, honor and service," said Eul.
Show dates are May 25, May 26, June 1 and June 2 at 7:30 p.m. at Burke Community Church, 9900 Old Keene Mill Road. For tickets and information, visit www.NVPlayers.com or call 703-866-3546.