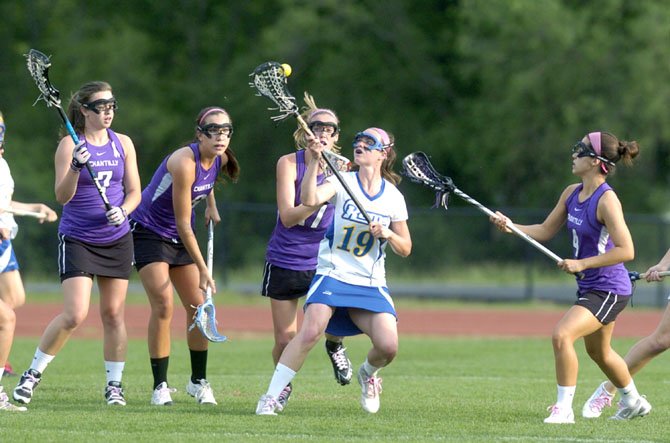 Burke — The Robinson Secondary girls' lacrosse team saw its first season under veteran head coach Liz Case come to an end this past Tuesday night, May 15 when the Rams lost to defending Northern Region champion Madison, 19-13, in a first round game of the 16-team region playoffs. The postseason contest took place at Madison High School in Vienna.
For the season, Robinson, with a large number of seniors (12) on its roster this spring, finished with a record of 4-10. The Rams qualified for regionals as a result of advancing past the quarterfinals round of the Patriot District tournament two weeks ago by defeating Chantilly, 19-16, in a playoff game at Robinson on May 4. The Rams lost their following game at the district semifinals, 17-6, versus Centreville on Tuesday, May 8 but still had regionals to look forward to.
At regionals earlier this week, Robinson stepped up and played a traditionally powerful Madison team tough but could not get by the Warhawks, last year's state champions.
This spring, Case, a former coach at W.T. Woodson, when the Cavaliers were state champions in 2002, and at Centreville (2009), took over a Robinson squad which, a year ago, finished 8-7. The Rams, under their new coach, had a difficult early part of the season, losing their first six games. Several of those early season setbacks were close games - 15-13 versus Stone Bridge, 13-12 in overtime to Marshall, 19-18 versus Woodson, and 17-14 versus Concorde District opponent Westfield.
"Stepping into the season with only three weeks to prepare and to get to know our players, and a tough schedule, was not easy," said Case, who a year ago started up the girls' lacrosse program at Trinity Christian School in Fairfax.
Robinson earned its first win, 18-11, on April 14, in a home game versus Jamesville DeWitt High of Syracuse, N.Y. Its first win over a Northern Region opponent came on April 20 when the Rams defeated visiting district opponent Herndon, 18-13.
Beginning with the victory over DeWitt, the Rams went 3-4 over their final seven games, including the two postseason games. The other wins during that stretch both came against Chantilly, including the district quarterfinals win.
Robinson, indeed, showed good improvement over the course of the season. The Rams, following the 0-6 start, were rewarded with several wins over the season's second half.
"We now have a better understanding of what talent is on the team and they also have really stepped up their playing by learning new things this season and changing bad habits," said Case, prior to regionals. "The Ram's have learned to play as a team and play a more balance game.
"My assistant coach, Kelly Butler, and myself went into this season with our own goals about changing the Ram's attack and defense to be more controlled and balanced," said Case. "I believe these young ladies have learned how important a strong defense and attack is when everyone's strong on the field. We have limited the amount of fouls on defense, our midfield transition has learned how to move the ball and slow it down, and our attack has more shooters on it."
In particular, Robinson's district playoff win over Chantilly showed how far the Rams had come this season.
"It was a good token to our success and something we have been preaching, 'Its' not how we start the season but how we finish,'" said Case. "We had several close and tough loses in the beginning of our season which can make it hard for any team."
ROBINSON GIRLS lacrosse was once one of the top programs in the region but, over the last several years, has struggled. Coach Case, although she will lose 12 seniors to graduation in a few weeks, is hoping the Rams can one day once again be one of the region's elite teams.
"The program has been suffering for awhile because they were once known for being one on the strongest teams in the region," she said. "It has been years since they have had a powerhouse team. These next few years are going to be building years for the program, especially with 12 seniors [set to graduate] and not having good numbers trying out [in recent years]."
Case said only 32 players came out for the team this past March. It is difficult to field both a varsity and JV team with such few players.
"That is a very low number of athletes for such a growing sport and large school," said Case. "My JV coach, Dan Hensley, was able to recruit a few players to help give some depth to the JV team."
But Case is optimistic that she and her coaching staff, along with the program's returning players, will be able to successfully promote the sport at the school and bring more athletes aboard over the next several years.
"This is a program and school that is well supported so the future of girls' lacrosse looks bright," said Case.