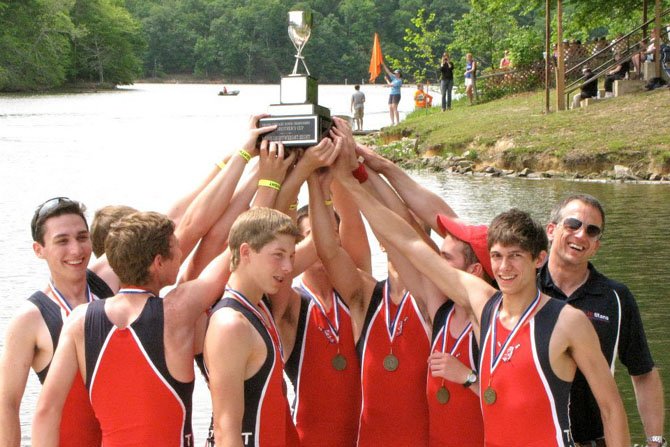 The Brother's Cup, a silver chalice that stands about two feet tall and is awarded annually to the fastest lightweight crew in the Commonwealth of Virginia, has a new home — T.C. Williams High School.
The Cup was captured by the T.C. Williams boys' lightweight 8, a squad of nine athletes whose drive, focus and workmanlike attitude throughout the 2012 rowing season helped propel them to victory at the Virginia Scholastic Rowing Championship, which was held on the Occoquan Reservoir this past Saturday, May 12.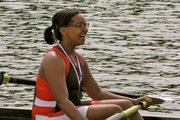 The Titan rowers, who took first place in their last race two weeks ago at the Charlie Butt Regatta in Georgetown, claimed the Cup and the Championship this past weekend in convincing fashion, winning with a time of 4:55.90 — nearly six seconds faster than runner-up Woodson. Members of the TC boys' lightweight 8 include: coxswain Brian Comey and rowers Cody Brooks, Ethan Vannatta, David Salmons, Chris Porter, Constantine Ivanis, Sam Zickar, Mitchell Youmans and Ben Blakeslee. The lightweight 8 is guided by Pete Stramese, the head coach of the T.C. Williams boys' crew team.
The Brother's Cup was not the only hardware TC rowers brought home on Saturday. Of the seven boats raced by the Titans at the Virginia State Championship, four came away with medals on the day. The strong performances were highlighted by the boys' varsity 4, which won a bronze medal in the afternoon final, a race that saw them cross the finish line less than .30 seconds behind second-place finisher St. Albans. Also winning bronze for T.C. Williams at the Virginia Scholastic Rowing Championship were the girls' second 8, who finished with a time of 5:47.74 against a very competitive field, and the boys' junior 4, who crossed the finish line in a hard fought contest with a time of 5:46.53.
The T.C. Williams crew team will race next at the Stotesbury Regatta, which will be held this Friday and Saturday, May 18-19 on the Schuylkill River in Philadelphia and is the oldest and largest high school rowing competition in the world. The TC crew team is guided by Stramese and girls' head coach Mercedes Kiss.
For the complete schedule and more information about T.C. Williams Crew, visit www.tcwcrew.org or www.facebook.com/alexandria.crewboosters.