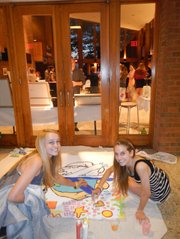 On Friday May 4, The Madeira School's African Affairs Club held its second "Art Affair," a "community-wide charity event" which raises funds for the non-profit organization, Freedom in Creation(FIC). Dedicated to "promot[ing] peace and unity for the war-afflicted and displaced children of Uganda," FIC provides therapeutic art classes to at-risk children, and exhibits their artwork internationally, "raising funds to bring clean water and educational infrastructure to their communities" http://www.freedomincreation.org/.
In addition to a silent-auction of student and professional artwork, this year's "Art Affair" featured student performances, a designer handbag raffle, and a fair-trade sale of Ugandan made clothing and jewelry. While last year's event was a success, generating enough funds to build a well in Northern Uganda, "This year, we wanted to broaden the scope of an Art Affair," explains Ella Every Wortman, co-head of the Afircan Affairs Club, adding, "we hoped to increase participation within Madeira, increase our fundraising, involve the wider D.C –Metro community, and strengthen Madeira's relationship with FIC."
Wortman, who also serves as an intern for Freedom in Creation, says that Madeira's relationship with the organization developed "by chance." After a mutual friend introduced her to FIC's founder, Andrew Briggs, Wortman says she "arranged for Andrew to come speak to a small group of students at Madeira, and after that the partnership between FIC and African Affairs Club really solidified."
Although he was out of the country during last year's event, this year Briggs was able to attend "An Art Affair" and give a brief presentation, in which he described the devastating effects longstanding conflict has had on the people of Uganda, and discussed the collaborative nature of FIC's efforts. Briggs explained that in order to "learn what would constitute advocacy" for the Ugandan people, he "sat with many of the leaders of these communities, and determined with them that we could join hands, and we could help one another." After describing FIC's newly launched "education center," a model-farm which teaches sustainable farming practices, he emphasized the importance of the Ugandan people's involvement in efforts to empower their own communities; by participating in FIC's programs, Briggs asserts that the Ugandan people "can begin providing for themselves."
This philosophy of "mutual reciprocity," certainly contributes to the success of FIC'S efforts, and it is what Ella Every- Wortman says attracted her to the organization. "I grew to be extremely passionate about their cause, not only because I cared about the kids and the community which they worked with, but also because I really loved the holistic approach Freedom in Creation takes, the grass-roots nature of the organization, and their belief in mutual reciprocity," she said.