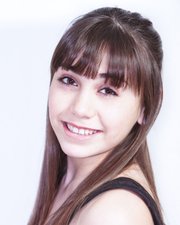 For two grueling days, 13-year-old Jamie Goodson joined 120 other young hopefuls in a rare open audition casting call last December for the Arena Stage production of "The Music Man."
Singing "Part of Your World" from "The Little Mermaid," Jamie survived the first cut then waited nearly a week before getting the call: the McLean resident had been cast as Gracie Shinn, one of only five young actors to get selected to perform in the popular musical about slick-talking salesman Harold Hill and his attempts to start a boy's band in River City, Iowa.
"I've been into singing and acting pretty much ever since I was born," said Jamie, who attends Cooper Middle School in McLean. "My mom and sister were already doing theater and my first role on stage was as a Munchkin in 'The Wizard of Oz' when I was 5 years old."


JAMIE'S JOURNEY from McLean to Arena Stage began at the age of 3 when she first started studying dance at McLean's James School of Dance. Singing, acting and piano lessons followed for the triple threat performer who has spent the last four summers participating in the French Woods Festival of the Performing Arts in Hancock, N.Y.
"The only girl part I was familiar with was Amaryllis," said Jamie, who was ultimately cast as Gracie, the youngest daughter of River City Mayor George Shinn. "There were lots of boys and girls auditioning. After the audition, we waited in a separate room until some of us were told to come back the next day."
Only 19 performers made it through to the second round of auditions, where Jamie was asked to sing "Good Night My Someone" and do some improvisational scenes. The final casting was announced in mid-December and rehearsals began in early April.
"It's exciting but also a challenge for the family," said Jamie's mother Wendy Goodson. "I have four other kids - two girls and two boys. One is a senior at Langley and had the lead in 'The Crucible' and another had the lead in his school play at Thomas Jefferson. And we had to fit in the Arena Stage audition between shows at Ford's Theater, where Jamie was performing in 'A Christmas Carol.'"
"The Music Man" opened May 11 and performances will continue through July 22.
"This is such an amazing experience," Jamie said. "I am learning so much, especially from [director] Molly Smith. She is amazing and has given me so many tips on acting and how to expand on parts."
Some of Jamie's other credits include "Ragtime" at the Kennedy Center and "101 Dalmatians" at Way Off Broadway Dinner Theatre.
"The show is coming along great," said Jamie a few days before opening night. "I am surprised at how quickly it all went by but I am excited now that all my cousins and grandma and grandpa will be coming to see the show. A lot of people from school will be coming as well."
Jamie, who admits to sacrificing time with her friends to keep up with schoolwork and the demands of performing, leaves no doubt about what she wants to be when she grows up.
"I definitely want to be in the theater business," Jamie said enthusiastically. "I can't imagine doing anything else. Everything else sounds boring to me."


"THE MUSIC MAN" is playing now through July 22 at Arena Stage, 1101 Sixth St. SW, Washington, D.C. For tickets or more information, call 202-488-3300 or visit www.arenastage.org.