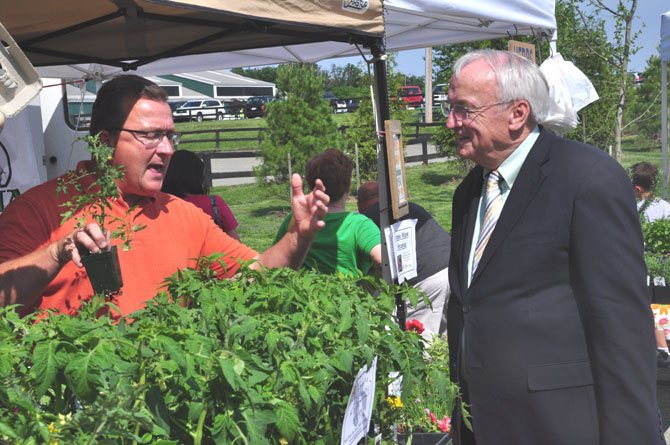 Herndon — Kevin Concannon, U.S. Department of Agriculture (USDA) Under Secretary for Food, Nutrition and Consumer Services visited the Frying Pan Farm Park Farmer's Market Thursday, May 17. In addition to visiting with local vendors and shoppers, he announced new grant opportunities for states to purchase Electronic Benefit Transfer wireless technology for the markets.
"There are about 7,000 farmer's markets nationally, and about 2,500 of those have access to electricity or wireless connectivity," Concannon said. "Our goal with these grants is to close the gap."
Frying Pan Farm Park's market is one of 11 sponsored by the Fairfax County Park Authority, and the only one that currently accepts EBT. This allows them to participate in the USDA's Supplemental Nutrition Assistance Program (SNAP), formally known as food stamps, which allows benefits to be used to purchase produce at local markets.
"Our interest is encouraging people to eat healthy, and this is a way to nudge people to markets like this to re-enforce the fact that we need fruits and vegetables every day," Concannon said. "The fewer processed foods people eat the better, and I think it's especially neat for kids to come and see where fruits and vegetables come from, maybe it will make them more apt to eat them."
Megan Carroll, Farmers Markets coordinator with the park authority, estimated they see around four or five SNAP participants every week at the market.
"Because most markets don't have EBT, they don't even think to try, which is a mindset we can hopefully change," she said. "Healthy, locally grown food can be less expensive and we want people to know that."
Grant money will be distributed by state, depending on the number of markets. There are a little more than 150 farmer's markets in Virginia.
Individuals using benefits at the market can go to the market tent located in front of the stand and tell the staff member how much they would like to spend. The staff member will give the person wooden tokens worth $1, which they can use to purchase only food items. No change is given, but tokens can be used the following week at the same market they were issued.
The Frying Pan Farm Park Farmers Market runs every Thursday until October from 3:30 to 7 p.m.