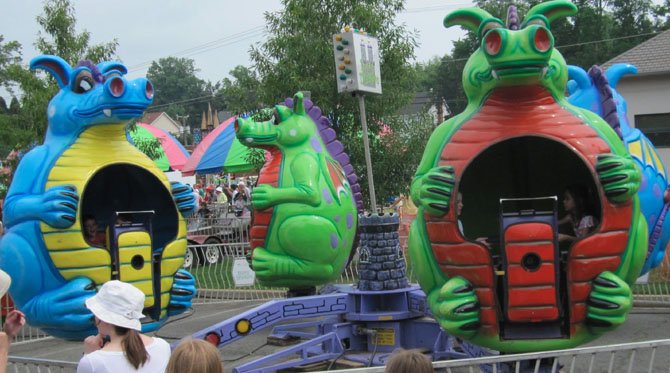 ViVa! Vienna! at a glance
Three-day Memorial Day weekend festival sponsored by the Vienna Rotary Club, in partnership with the Town of Vienna. ViVa! Vienna! takes over the Historic Church Street corridor.
More than 300 vendors. Amusement rides, live entertainment on children's stage and main stage. Saturday, May 26: Food and rides, open 10 a.m. to 10 p.m.; Sunday, May 27: Food and rides, open 10 a.m. to 10 p.m. Vendors open 10 a.m. to 6 p.m. Live entertainment runs 11a.m. to 10 p.m. Recyclable e-waste collection center open noon to 6 p.m. Monday, May 28: Food, rides, vendors and live entertainment run 10 a.m. to 6 p.m. E-waste collection center open noon to 6 p.m.
Free ViVa! Vienna! web app at http://www.vivavi...">http://www.vivavi....
Free admission to festival, and free shuttle service to festival grounds from James Madison High School and the Vienna Metro station.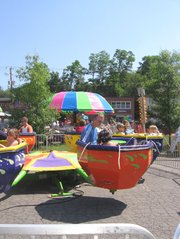 It's back, and more fun-filled and family-friendly than ever … It's the annual three-day ViVa! Vienna! Memorial Day weekend festival sponsored by the Vienna Rotary Club, abundant with more than 325 vendors, all-day free live entertainment and 24 kid-friendly amusement rides. The Historic Church Street corridor closes down completely on May 27 and 28 when the area hums with festival life. On May 26, opening day of ViVa! Vienna!, Church Street remains open. Only amusement rides and the food court are operational on opening day.
Smart phone users can get the free ViVa! Vienna! web app at http://vivavienna.org/. Just about everything you want to know about the festival is there.
"It is, essentially, a free event, except for food and rides," said sponsorship chair Keith Bodamer. "It reflects the greater Vienna community spirit, a small-town feel. And all the [net] proceeds go back into the community."
Rotary Club, a local civic club dedicated to providing funds to community nonprofits, made some changes this year to ensure a greater fun-filled experience for visitors of all ages.
The Magic Carpet, a popular but space-sucking ride – has been relocated to Dominion Road, opening up vendor and strolling space between Mill Street and the Freeman Store.
Among the vendors are purveyors of goods, crafts, and commercial and non-profit services. There will even be politicians and candidates for those who cannot get enough of an election year.
Food sales run the gamut from sweet treats – ice cream and pastries – and American standards to ethnic and regional. What would a street fair be without cotton candy and kettle corn? Well, it would probably be healthier, but nobody goes to a community holiday festival for healthy fare. Beware of fried candy and Twinkies.
The 2012 festival features 21 food vendors. Vienna food vendors include Yahala, Robek's Fruit Smoothies, The Pure Pasty Company and Donatos Pizza.
The entertainment schedule, under the planning of entertainment chair Jeff Bollettino, School of Rock owner, has been expanded to run throughout the weekend. As in previous years, there will be simultaneous entertainment running on the main stage on Church Street and the children's stage on the Town Green. Great thought, Bollettino said, went into ensuring there was no music volume conflict between the main stage and the children's stage.
Incorporating feedback from parents, Bollettino scheduled children's programming to serve the needs of families. The music mix, he said, runs from toddler-dancing sounds to teen rock. Prominent kiddie-rock band, Rocknoceros – a Vienna favorite – performs on the main stage, noon, Monday, May 28. School of Rock musicians play on the main stage, and the Cuppett Performing Arts Center brings in dancers to the Town Green stage.
The George C. Marshall High School Jazz Band makes its inaugural ViVa! Vienna! performance. Bollettino said he is hoping for more high school and armed forces bands participation next year.
The list of performers and the entertainment schedule is at http://vivavienna.org/entertainment.aspx.
Free parking is available at James Madison High School and the Vienna-Nutley Metro station (north lot), both with free shuttle service to ViVa! Vienna! grounds. Parking is also available – no shuttle service – at 301 Maple Ave W, White Oak Tower Building, and at Magruders, corner of Maple Avenue and Courthouse Road; park only in large lot behind store.
Handicap-accessible shuttles run from the front parking lot of Madison High School.
Once again, Navy Federal Credit Union sponsors a free e-waste (electronics/computer recycling) collection center at James Madison High School, back parking lot. The collection process includes shredding data-containing components (drives). Monitors are accepted, but not televisions.
Freeman Store, which recently was designated status on Virginia's historic register, and the Vienna train station, with its extensive model train layout, will be open to the public.
On Monday, May 28, Rotary presents a Memorial Day tribute on the Town Green. Rotarian Woody Bentley emcees. Vienna's American Legion Post 180 presents the colors, followed by the Madison High School Madrigals singing the national anthem. Rotary club president Gerry Hamilton and Vienna Mayor M. Jane Seeman welcome guests to the tribute. U.S. Congressman Gerry Connolly will make remarks, and former Town Council member and Post 180 member Dan Dellinger is the guest speaker. A medley of patriotic songs is to be performed by the Vienna Choral Society, and the program recognizes a moment of silence for the honored dead. Taps closes the Memorial Day tribute program.
ViVa! Vienna! title sponsors are Navy Federal Credit Union, the Town of Vienna and Rotary International.
"In an area of continuous urban sprawl, we have a distinctive feel of community in Vienna," said Bodamer. "ViVa! Vienna is seeing and enjoying being with your friends and neighbors."
For festival details, schedule of events, vendors and contact information, go to www.vivavienna.org.