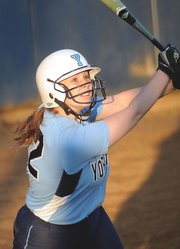 Arlington — With the score tied in the sixth inning of a National District semifinal matchup, Yorktown junior Lillian Prins shared a laugh with Washington-Lee catcher Grace Evans during a pressure-packed at-bat.
The two used to be teammates at W-L before Prins transferred to Yorktown for the 2011-12 school year. While the two joked as if Prins was still a member of the Generals, the first baseman's next swing of the bat drove home the fact she's now a Patriot — along with the winning run.
Prins smashed a full-count pitch off the center-field fence for an RBI double, lifting the Yorktown softball team to a 2-1 victory on May 17 and a berth in the National District tournament championship game. Prins just missed hitting her first home run of the season, instead settling for a double and the game-winning RBI.
"It felt really good," she said. "I'm a little disappointed it didn't go over."
While changing schools can be difficult in any setting, Prins faced the challenge of crossing from one side of an Arlington rivalry to the other. There were questions whether she would fit in with her new teammates as she traded W-L's Blue and Gray for Yorktown's Columbia Blue and White.
"We were all kind of nervous before the season started: 'What's it going to be like with Lillian?'" Yorktown senior pitcher Kate Bauman said. "No one knew her, so it was definitely a little nerve-wracking."
In addition, Prins had to face the potentially uncomfortable scenario of playing against the Generals. Thursday's matchup was the third contest between the teams this season, with Yorktown winning each one. The Patriots won by two (10-8) in the first meeting on April 10, by one (5-4) on May 2 and again by one in the district tournament.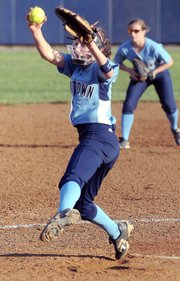 "The first game we played them, it was pretty tough. I almost accidently kept cheering for [W-L], instead," Prins said. "I really, really do love this [Yorktown] team. It feels good to beat [W-L] and each game it has gotten a little easier."
Yorktown coaches are happy No. 12 is on their side.
"One of the great parts about having Lillian," assistant coach Deb Litman said, "… is that she's not [at W-L] and we don't have to face her."
Prins has performed at high level this season, earning first-team all-district honors while helping Yorktown to the top seed in the district tournament.
"I'm so happy to have her on the team," Bauman said. "She's made such a huge difference with her batting [and] on the field. Everyone's happy to have her. She's fit in really well with our team."
Along with Prins, Bauman and third baseman Charlotte Batdorf were also recognized among the district's best. Bauman was named Pitcher of the Year and Batdorf earned Player of the Year honors.
Bauman, who will play softball at Middlebury College, earned a complete-game victory against W-L on Thursday, allowing one run while striking out nine over seven innings. Yorktown catcher Maggie Stewart threw out two would-be W-L base stealers.
Yorktown lost to Hayfield, 5-3, in the National District tournament final on May 22. The Patriots are the No. 2 seed from the National District and will host West Potomac, the Patriot District's No. 3 seed, in the opening round of the Northern Region tournament at 7 p.m. on Friday, May 25.