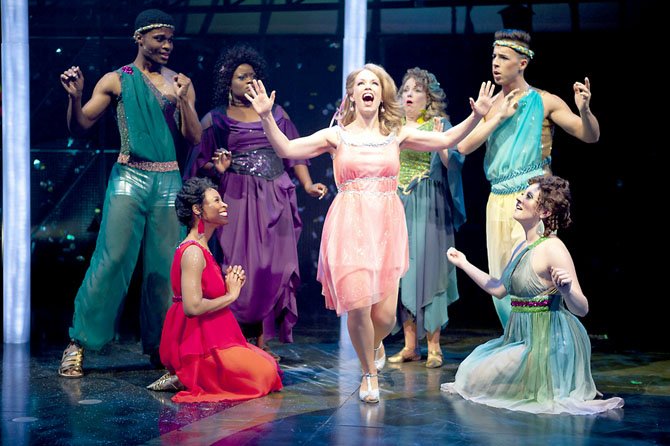 Arlington — Don't bother telling "Xanadu" that's it's based on one of the worst movies of all time. It's already in on the joke, reinventing itself as an outlandishly zany spoof of the 1980 movie about a muse descended on skates from Mount Olympus to inspire the creation of a roller disco in Venice, Calif.
Directed and choreographed by Matthew Gardiner, the Signature Theatre production of Douglas Carter Beane's 2007 Tony Award nominated version of "Xanadu" focuses on Clio, a muse sent on a quest to inspire struggling chalk artist Sonny to build a roller disco. Disguised as an Australian rollerblader in leg warmers, Clio changes her name to Kira and falls into forbidden love with Sonny.
Helen Hayes Award winner Erin Weaver is the comically endearing Clio/Kira, whose jealous sisters place a curse on her in hopes of her eternal banishment to damnation or worse — the 1980s.
Weaver is irresistible in leg warmers on wheels, the signature look made famous by Olivia Newton-John in the movie. Her brilliant Broadway belt shines as does her devastatingly funny parodying of Newton-John's breathy vocals. With charisma to spare, Weaver masterfully couples Newton-John's wholesomeness with a delightful touch of trampy.
The object of Clio/Kira's inspirational light is frustrated artist Sonny Malone, a slab of buff beefcake in tube socks and denim cutoffs played to endearing perfection by Charlie Brady.
With music and lyrics by Jeff Lynne and John Farrar, "Xanadu," an Outer Critics Circle Award for Best Musical and a Drama Desk Award for Best Book, retains hits from the film but adds new arrangements of "I'm Alive," "Magic," "Suddenly," and "Dancin'." The interpolating rendition of two classic Electric Light Orchestra songs, "Strange Magic" and "Evil Woman," is a side-splitting show stopper.
Working from an unpromising original screenplay, Beane ingeniously pays mock homage to the cult classic with a devilish shtick for two of Clio's sister muses — Calliope and Melpomene, played respectively by the stage-devouring comic actresses and Helen Hayes Award winners Sherri L. Edelen and Nova Y. Payton.
The wickedly funny duo time and again steal the show, highlighted by their theme song "Evil Woman."
Veteran actor Harry A. Winter is polished perfection as Danny Maguire, a magnate who bankrolls Sonny's disco dreams after messing up his own brush with a muse 35 years earlier. His comical talents especially shine when he later channels the plucky tones of the Greek god Zeus.
Among the multitasking first-rate ensemble members, Nicholas Vaughan cranks up the sassy attitude as mister-sister muse Terpsicore while Mark Chandler rounds out the hilarious drag duo as Thalia.
"This is like children's theater for 40-year-old gay people," deadpans Edelen's Calliope, and indeed Beane cleverly lampoons '80s pop culture with a deft touch and complicitous wink at the audience that lets them in on the joke.
With a masterful production team of Misha Kaufman (scenic design), Kathleen Geldard (costume design), Chris Lee (lighting design) and Matt Rowe (sound design), Signature Theatre has created an engagingly goofy spoof filled with witty humor and magnetic performances.
The epitome of pop-rock cheese, "Xanadu" is a feel-good experience from beginning to end — a 90-minute hilarious romp filled with insider references sophisticated enough for pop culture cognoscenti yet hilariously entertaining to even the most novice of theatergoers. Dig out those leg-warmers and head over to Signature Theatre for the must-see show of the summer.
"Xanadu" is playing now through July 1 at Signature Theatre, 4200 Campbell Ave., Arlington. For tickets or more information, call 703-820-9771 or visit www.signature-theatre.org.