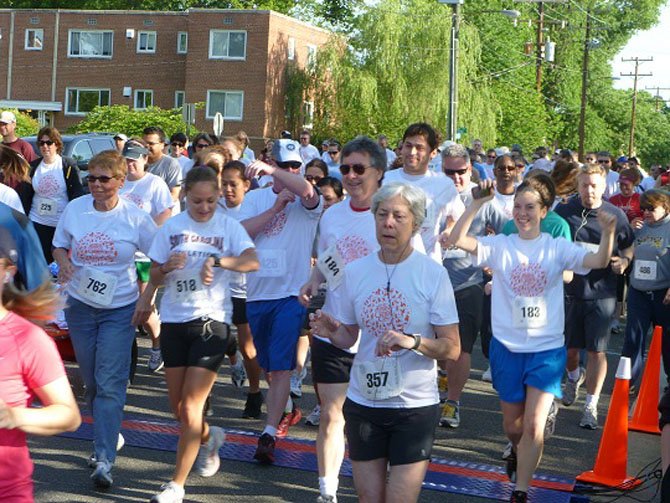 Alexandria — The Kelley Cares Foundation hosted a 5k race May 19 to raise funds for a Miracle Field at the Nannie J. Lee Memorial Recreation Center.
A Miracle Field is a baseball field covered with a synthetic, rubberized compound that acts as turf, so people who use wheelchairs and walkers can play safely.
This race was the foundation's largest ever, with 850 people registering and 701 participating.
Kelley Cares made a $40,000 commitment to the Miracle Field, $10,000 of which it contributed last year. Money left over from the remaining $30,000 and after the costs of the race are deducted from the $51,100 raised Saturday will support the Therapeutic Recreation Program, one of the foundation's partners that focuses on building self-confidence in people with special needs through teaching them recreational skills.
The foundation was started in 2006 in honor of Kelley Swanson, who had worked with the TR Program since she was in fourth grade until she died of sudden illness.
"She had friends that were participating in the program," said Lindsey Swanson, Kelley's older sister and one of the race directors for the foundation, "and she really wanted to help out, and just ended up loving it and loving the kids, so she ended up basically growing up with the kids that were part of our program and helped for eight years, was there every weekend and was a very dedicated volunteer."
Kelley graduated from T.C. Williams High School and was planning to attend Virginia Tech with her twin sister, Katey, when she died.
Kelley's family helps with the foundation. Kelley's twin sister, Katey, is also a race director, along with Lindsey's husband, Terry Burcham. Kelley's parents, Sandy and Mimi, also sponsored this year's race.
Kelley's friends and friends of her family also participated in and helped with the race.
"Kelley was a dear friend of mine from high school," Jarreau Williams said. "We graduated the same year. We were actually going to be going to Tech together as well."
James Sadighian and Justin Knoernschild also went to T.C. Williams with Kelley and ran in the first race.
"We've usually been involved one way or another with helping this thing out," Knoernschild said.
Other participants, such as Garret Martucci, who finished first overall at 16 minutes 18 seconds, heard about the race through friends. The first female to finish, Barbara Fallon Wallace, who had a time of 17 minutes 40 seconds, heard about the race through the news.
The cost to construct the field is $420,000, $285,000 of which is provided by the city, with the remaining $135,000 being provided by the private sector.
According to Mac Slover, the director of sports for the City of Alexandria, The Miracle Field was originally in the city's capital improvement plan for 2020, but it was moved up to the 2013 fiscal year, which takes effect in July, when the youth support advisory board, Kelley Cares, ACPS and various private citizens went to City Council and agreed to raise funds privately.
Slover said about $140,000 has been raised privately and that the surplus would go toward anything related to the Miracle Field, such as fences.