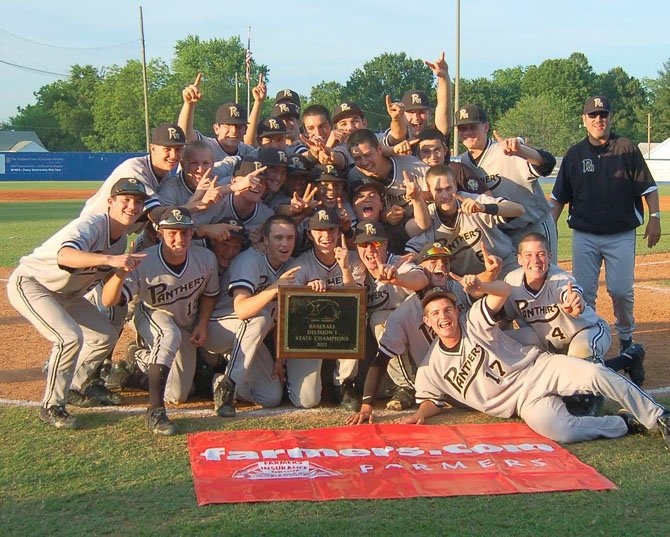 Fairfax — Fresh off their third Washington Catholic Athletic Conference (WCAC) Championship in the last six years, the Paul VI High Panthers' baseball team had one more goal this past week: to win another Virginia Independent Schools Athletic Association (VISAA) state title for their departing skipper Billy Emerson.
And that's just what the Panthers did, capturing the school's fifth state championship overall and the fourth in the last nine years, with a 5-3 win over No. 1-seed Benedictine (Richmond) last Saturday.
Paul VI, this postseason, accomplished for a second time what it was the first team ever to do back in 2009 - win both the WCAC and state baseball championships in the same season. The Panthers won 16 of their last 20 games, including eight of nine in the postseason to finish this spring 23-11 overall and 17-6 versus WCAC foes.
The final journey of 2012 began last Wednesday as the No.2-seeded Panthers hosted No. 7 Trinity Episcopal (Richmond) in the state quarterfinals. Starting pitcher Mark Gunst allowed just three hits over six innings, while Mitch Aker (2 for 4, 2 RBI), Andy Page (2 for 2, 2 RBI) and Tyler Alger (solo HR) paced the offense in a 7-0 victory.
Friday afternoon, the Panthers traveled to Shepherd Stadium in the suburbs of Richmond for the VISAA semifinal versus No. 6 Bishop Ireton (Alexandria), who were upset winners over No. 3 Liberty Christian (Lynchburg) in the quarterfinals. A flu virus swept through the Panther clubhouse, causing four players to miss Friday's trip. The remaining Panthers pulled together for the 7 p.m. contest as Joe Salzano picked up the win, pitching his fifth complete game of the season. Thomas Beauchamp and Andy Page drove in runs on back to back squeeze bunts, while Blake Banet added a key two-run double to push the Panthers to a 5-1 win over the WCAC rival Cardinals.
Following the game, three more players struck by the virus were released to their parents as the rest of the club headed to the team hotel.
"It was a pretty odd situation. This has never happened in all my years of coaching," said Emerson, of the illnesses to numerous Panther players. "We had a few guys who looked like zombies. Everybody wanted to be there but some of them had really high fevers."
One of those was junior left-handed pitcher Braedon Lawson, who was slated to start the state final. Lawson, who earned a complete game victory in the deciding Game 3 of the WCAC championship series a few weeks ago, was first struck by the virus during Wednesday's quarterfinal game as trainers were summoned to the dugout to attend to the `over-heated' lefty. Lawson missed practice on Thursday and stayed behind Friday, but returned to the team an hour before the state championship game against Benedictine ready to pitch.
THREE INNINGS into the contest, an exhausted Lawson was lifted from the game, but he left with a 5-1 lead thanks to RBIs from Banet, Aker, Page and Blake McCrea. Lawson pitched the team out of several jams, thanks to stellar defense, including an outfield assist from Aker who threw out a runner at home from left field.
Reliever Robbie Newell picked up the win by holding the lead for Paul VI as they headed into the sixth inning with a 5-3 advantage. In the bottom of the sixth, Emerson handed the ball to Gunst, who on two days rest recorded the save, striking out the game's final batter.
"We pulled Mark [Gunst] after six innings on Wednesday for two reasons," Emerson remarked. "One was to prepare Newell and [Mitch] Freeborne, who both hadn't pitched in a while, for this weekend; and the other was to get Mark some rest in case we needed him today. Mark's a warrior. Once again he came through for us."
For the tournament, Gunst was 1-0 with a save, allowing no runs and striking out eight batters in eight innings of work. Banet hit .444 with four RBI, Page batted .429 with three RBI, and Aker hit .364 with three RBI. Richie Mancari scored a team-high four runs and swiped a team-high four bases.
The victory tops off a stellar coaching career for Emerson at Paul VI. In 10 years at the Fairfax Catholic school he logged a record of 219-86, capturing more WCAC (3) and VISAA State (4) crowns than any other school during that time.
"It's amazing to go out this way," said Emerson. "It's like a Hollywood script... riding off into the sunset. I'm so proud of our players and our coaches. We had 16 seniors too. This is more for all of them than it is for me. I'm looking forward to kicking back and being a fan of PVI baseball under Coach [Jeff] Nolan."
Nolan has been Emerson's assistant the last 10 years.
Emerson will continue as the Director of Athletics at Paul VI, but is stepping away from baseball to finish a Master's Degree and spend more time with his family.
"I've been playing or coaching for about 35 years," he said. "It's time for a change. I am excited for our program. Our coaching staff is great."
With a smile, Emerson said, "The real `brains of the operation' now gets to take over. It's been quite a year for Paul VI sports. We have some great people here who are using sports as a vehicle to teach kids some life skills. They are doing things the right way. When you take care of that, winning takes care of itself."