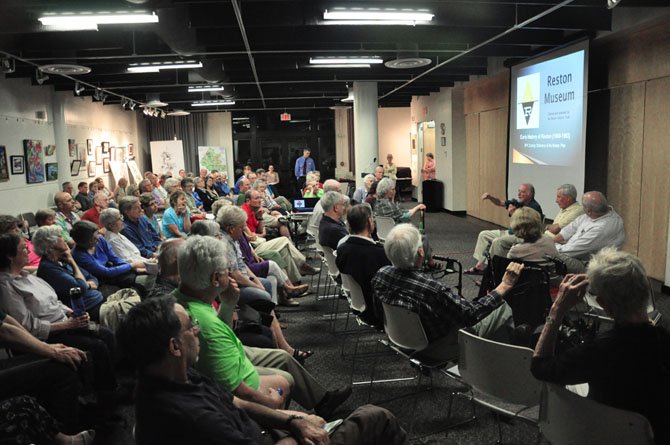 Reston — Shortly after purchasing the land that would become Reston in March 1961, founder Robert Simon was on a plane back to New York City. The story he likes to tell is that's where he grabbed a legal pad and began coming up with ideas for his new community, ideas based on his travels and life experiences.
The subject of the early days of Reston was the topic of the latest presentation by the Reston Museum, Thursday, May 24, which dealt with the realities of planning a community after Simon sold Carnegie Hall to pay for more than six thousand acres of land outside of Washington, D.C.


MUCH OF THE STORY of early Reston is about planning and zoning, specifically, the barriers Simon and his staff had to break down to plan the community they wanted. Traditional zoning practices started in America around 1915, and called for the separation of land by uses: residential, industrial, retail, commercial and others.
The principle of separating land by use prohibited mixed-use uses, such as a building with retail on the first floor, office space on the second and residential on the third. It also excludes clustered density. Both principles were key to Reston's development.
"By its very nature, traditional zoning is exclusionary, it prohibits mixed use," said Loren Bruce of the Reston Historic Trust. "So if we don't have a change in zoning ordinance, you can't have the Reston that Bob envisioned."
Ebenezer Howard, an Englishman, published a book in the early 20th century titled "Garden Cities of Tomorrow," which offered a vision of a place that offered the living and working opportunities of a city with the outdoors and open space of the country.
After purchasing the land in March 1961, over the next month Simon hired companies to do a land feasibility study and planning. Harland Bartholomew was hired in April 1961 to start planning, and soon came up with a plan that called for 13 village centers, each of which would serve about five to six thousand people.
"The market analysis said that you can't support a grocery store without 10,000 people," said Bruce. "So because of that, the plan was changed to seven village centers."
This included hiring Glenn Saunders in November 1961 to be vice president in charge of planning, engineering and construction. Saunders had already been the youngest city manager in the state, serving in that position for the City of Fairfax since 1956.
Saunders said he liked his job as City Manager, but an encounter with someone at a local Rotary Club meeting led to an introduction to Simon and Reston.
"I was happy at my job, and I was doing what I really wanted to do," Saunders said. "But on the other hand, as an engineer, it was an opportunity to start from scratch and build a completely new city, without all the restraints you have with an existing city."
Simon, Saunders and their staff spent from January to July of 1962 in negotiations with the county.
"Most people think that Bob came up with this plan, and the county greeted him with open arms and said 'we're so happy to see you, we've been wondering what you wanted to do with that almost 7,000 acres,'" Saunders said. "What scared people the most I think, from all the wonderful things that Bob was going to do, was that it was going to be a company town, that Bob was going to own everything, control everything, but that's not what we wanted at all."
Soon they began hitting obstacles everywhere they went, and Saunders said the group grew desperate.
"The group came up with the idea to just assume that we have no zoning ordinance, no restraints, and let's just do a master plan the way we want to do it, and then we'll write an ordinance that will permit it," he said. "That's essentially what we did. We had to come up with an ordinance that would allow us the flexibility we wanted, to do the things Bob wanted to do, but would give the county control to do the things they wanted to do. Once we agreed to do that, it seemed to be easy, we came up with a short, simple ordinance."


THE BASIC PREMISES of the ordinance were: inspire innovative and creative design for land development, provide maximum and efficient use of open space, encourage a balance in the mix of land uses and allow maximum flexibility to achieve excellent in physical, social and economic planning.
In July of 1962, the Fairfax County Board of Supervisors gave their approval.
"Bob buys the land in March of 1961, and today you would think, can anyone get something this remarkable passed in this short of a time?" Bruce said. "That's what is so amazing to me."
The next presentation by the Reston Historic Trust will be Thursday, June 28 at 7 p.m. and will cover the building of Lake Anne Village Center from 1963 to 1965. It will take place at the Reston Community Center Lake Anne. More information can be found at www.restonmuseum.org.