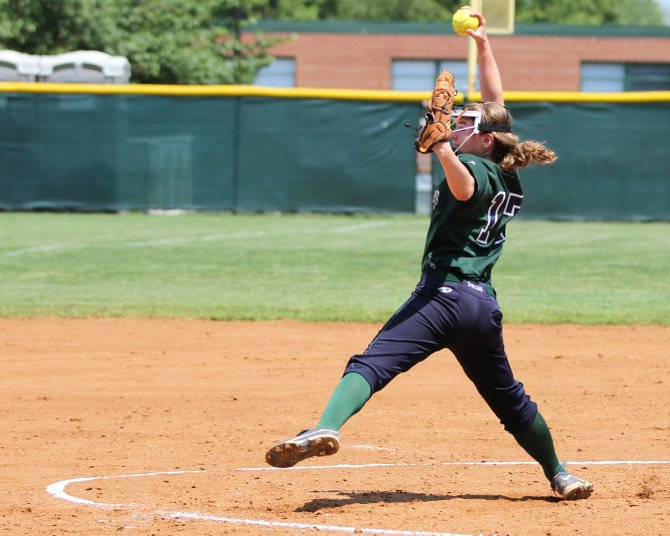 Falls Church — While Rebecca Martin's postseason pitching accomplishments would make it hard for the South County sophomore to be unknown by an opponent, Martin knew there would be zero chance of flying under the radar on Monday.
South County faced Robinson in the regional softball quarterfinals on May 28. Robinson head coach Mitch Hughes coaches Martin's travel team, the Virginia Stingrays, meaning the Rams would have a detailed scouting report on the Stallion right-hander.
"We were a little concerned about that because he obviously knows her very well," South County head coach Gary Dillow said. "He spends more of the year with her than I do."
Six days after winning the second district championship game of her South County career --- and the program's sixth in a row --- Martin's performance against Robinson rendered obsolete any knowledge the Rams had of her abilities.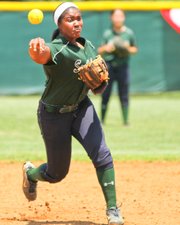 Martin hurled a one-hit shutout as South County advanced to the region semifinals with a 5-0 victory at Falls Church High School. Martin allowed only a leadoff single in the second inning to Robinson catcher Haley Clements. She ran into trouble in the fourth, loading the bases with three walks, but got out of the jam with a strikeout. She finished the contest with four walks and nine strikeouts.
"She pitched great," Dillow said. "She struggled a little in that one inning. Her hand was just so wet that she couldn't control any of her spins, but we kind of worked through it and she did a great job. [She] kept them off balance as she usually does, and when they did put the ball in play the defense was great behind her."
Martin struck out at least two Robinson batters in three of the first four innings. She allowed only one runner to reach third base.
"My travel team coach is the coach for Robinson and he knows my pitching really well," Martin said. "He knows how to prepare his batters to hit against me and they have a lot of really good hitters. I came out expecting to pitch to some good hitters and be ready to hit my spots. I just knew that I had to pitch a good game and not let any bad pitches go or they would punish me."
Thankfully for Martin, the one player who punished the ball during the game was teammate Whitney Burks. The sophomore shortstop went 4 for 4 with two RBIs, including a run-scoring double to the left-center field wall in the second inning, giving the Stallions a 3-0 lead. Robinson center fielder Ivey Wagner nearly caught Burks' deep drive, but couldn't pull it in.
"She pitched great. … [She] kept them off balance as she usually does, and when they did put the ball in play the defense was great behind her."

— South County softball coach Gary Dillow about Rebecca Martin
"Personally," Burks said, "I was just trying to get the ball in play and good things will happen."
Burks also drove in a run with a single in the fifth.
"She makes us go," Dillow said of Burks, who hits third in the order. "When we get kids on base in front of her, that's when we win."
First baseman Brittnee Haynes drove in a run when she was hit by a pitch with the bases loaded in the first inning and center fielder Elyssa Dunn added an RBI single in the frame.
The victory improved South County's record to 23-2 and extended the Stallions'' winning streak to 12.
South County will face Oakton, the No. 2 seed from the Concorde District, in the semifinals at 4:30 p.m. on May 30 at Madison High School.