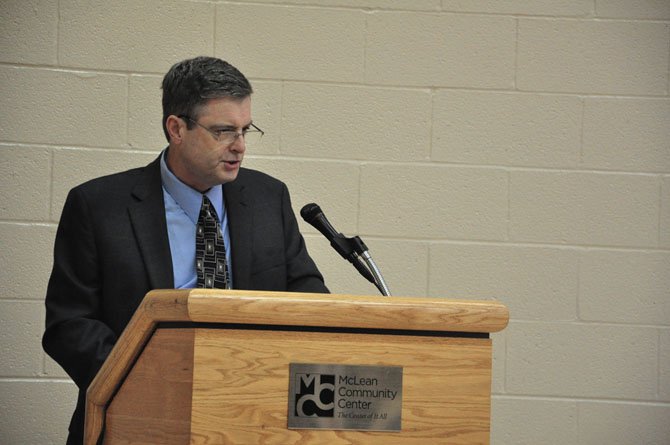 McLean — The McLean Citizens Association hosted their annual members meeting Wednesday, May 23, saying farewell to President Rob Jackson and welcoming new president Sally Horn. Jackson, who is wrapping up his fifth term (the most of any MCA president), said he was proud of the MCA's work on a number of issues over the past five years.
"We made progress on a number of important issues, especially the comprehensive plan for Tysons Corner, and ensuring the MCA participation in the important Tysons Partnership organization," he said. "Communications have improved between the community and VDOT and [the Metropolitan Washington Airports Authority], especially as they relate to the many construction projects. I believe they view the community not as an barrier, but a valuable resource for input."
Jackson said there is more work to be done, and he emphasized the importance of figuring out the infrastructure costs for Tysons redevelopment, stating that the MCA would continue to advocate on behalf of the taxpayer.
Mark Zetts, chair of the MCA's Tysons Corner Liaison committee, praised Jackson for his efforts protecting residents throughout the Tysons Corner planning process.
"When the Tysons Task Force was running roughshod over the community, Rob wrote numerous letters to the editor about tying Tysons in with parks, about transportation, spending impacts, density," he said. "I really applaud the job he did."
Rip Sullivan, president of the McLean Community Foundation, also spoke at the event, informing the community about the organization's activities over the past year. The MCF is the charitable arm of the MCA, and gives out grants to various local organizations, everything from the volunteer fire department to local schools.
Sullivan said the foundation's portfolio is "doing well" of late, with about $1.3 million currently there. He said the board is committed to maintaining the diversity of the portfolio, to take care of it as closely as possible.
He also said he hoped to keep the dialogue with the community open, to find out what needs are and where grant money can best serve local residents. This past year also saw the foundation host an official dialogue with community leaders to discover more ways to contribute.
"One of our frustrations is that we can only respond to grants we receive. We're trying to be a little bit more pro-active and have, on occasion, urged community groups to put in a proposal," he said. "There's nothing more frustrating for us when we gather for a grant making meeting and the grants chairman announces that we have a grand total of two requests. We wish we had the opposite problem."
The MCF's current grant cycle ends June 15, and more information can be found at www.mcleancommunityfoundation.org.
More information on the McLean Citizens Association can be found at www.mcleancitizens.org.