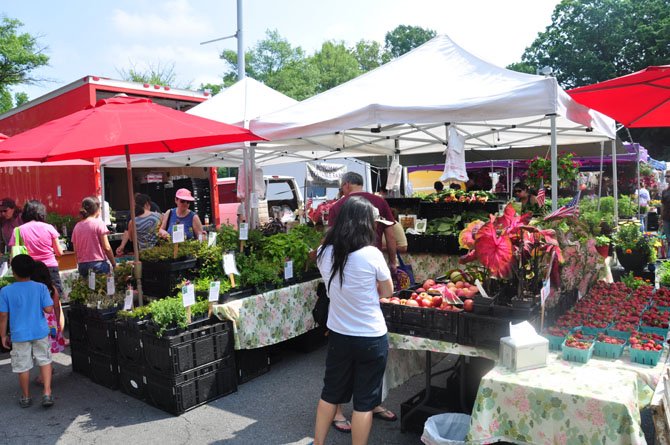 Reston — Living in California, Tony Tanis saw the rise in popularity of kale chips. A vegan culinary school graduate, she knew the nutritional value of the chips, made of dried kale greens, but found that they could be a little pricey.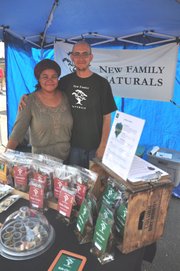 "I love potato chips, but they're not the best thing for you. Kale chip's tasty, but also about $10 a bag, and I couldn't see myself paying that, so we came up with the idea of making our own," she said.
New Family Naturals, Tanis's company, is one of the recent addition to the Reston Farmer's Market, which takes place at Lake Anne every Saturday.
While they will be at the farmer's market at Lake Anne for the rest of the season, Tanis is also planning on being a more permanent fixture at Lake Anne.
"We're going to be opening a community market, featuring our products, as well as products from the community, soap makers, a juice bar and a selection of all-vegetarian, gluten-free items," she said. "We want to make health food that tastes good."


NEW FAMILY NATURALS also make flax chips, rich in fiber and omega-3, and dried vegetables. They plan to open their market at Lake Anne Aug. 1. They are doing much of the construction themselves, and are holding a fundraiser to raise money for equipment.
Kathy Reid of Reid's Orchard and Winery of Pennsylvania knows how farming has evolved. They started growing commercial varieties of apples, but soon realized there was more to it.
"We realized that we were sending everything away on the truck, so now we just go direct to markets," Reid said. "We also learned how to expand, because in the commercial business, wholesalers just want consistency, but people who come to farmer's markets want variety."
Reid's farm grows 60 varieties of heirloom tomatoes, 75 varieties of heirloom apples, melons, zucchini, yellow squash, peppers and more. She also knows the importance of growing things the natural way.
"Our strawberries might look small, but they're full of flavor. We don't pump them full of water and fertilizer, so they're the natural size and the flavor doesn't suffer," she said. "Our goal here is to teach people what fresh, natural food looks like, because so many foods out there that people get aren't what they're supposed to look like."
Reid says it's especially rewarding to see children as customers, because they get a chance to see where foods they might not otherwise see come from.
"We've always viewed ourselves as stewards of our farm, it was there before we were, and it will be a farm after we're gone," she said. "We just want to keep it going for the next generation."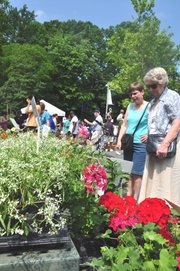 Lynn Dysart of A Bit More Sweets and Specialties has been coming to the market for the past eight years. She's gotten into a routine, which includes no sleep on Friday nights.
"I do a market on Friday nights until about 7 o'clock, my ovens are on by eight and the last scones come out of the oven at about 5:15 a.m.," she said.
Dysart creates a wide variety of cookies and other sweets, and every week at the Reston Farmer's Market she will have a different theme for some cookies.
"This week was barbecue week, because of Memorial Day, we had hotdog and grill-shaped cookies, they went pretty fast," she said. "Next week will be end-of-school themed, and later we'll be doing a children's story theme. We're always looking for ideas. I think the kids get excited to come by and see what the week's cookies look like."
Mary and Matt Harsh of Chelsey Vegetable Farms of Smithsburg, Md. were one of the earliest farms at the market, going all the way back to 1998.
"We came because we thought it would be a good way to expand into a different avenue, and it's really unique way to take our produce directly to the consumer," Mary Harsh said. "People don't just want a red delicious apples anymore, they want diversity, and we can give that to them. When the process is this direct, we can get the freshest things out, unlike with regular grocery distribution."
Chelsey Vegetable Farms features a variety of tree fruit, such as peaches, plums, cherries, as well as heirloom tomatoes, apples, eggplants and more.
"One of our most popular items are the baby cantaloupe, which are about the size of softballs," Mary Harsh said. "They're so popular, we don't even bring the regular size anymore."


THE RESTON FARMER'S MARKET takes place from 8 a.m. to noon every Saturday until Nov. 3 at Lake Anne Plaza. More information can be found at www.restonfarmersmarket.com.