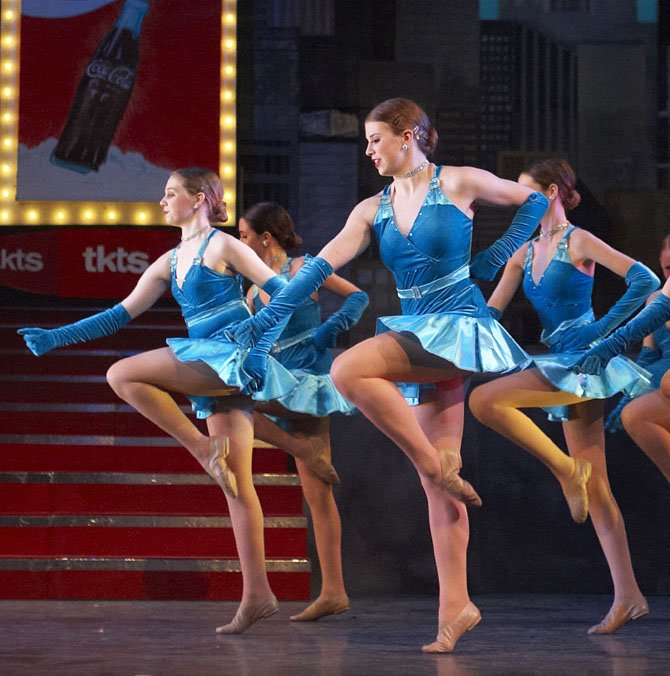 Centreville — Premiering their new show here before taking it to Greece this summer are the singers and dancers of Encore Theatrical Art Project. They'll perform "Dancin' Fool" on Saturday, June 9, at 4 and 8 p.m.; and Sunday, June 10, at 1 and 4 p.m.
They'll be on the stage of the Richard J. Ernst Community Cultural Center on NOVA's Annandale Campus, 8333 Little River Turnpike. Tickets are $20-$22 at www.encore-tap.org.
Some 40 girls, plus Encore alumni Abbey Hurlbert and Elise Kowalick, have been rehearsing since February, and director and choreographer Raynor van der Merwe can hardly wait for audiences to see them.
"I'm excited because so many different styles of dance are explored in this show, with a great variety of numbers," she said. "And since the story is told through the songs, this production also showcases our many amazing singers, as well as their acting abilities."
Tabitha Dees designed the set, which van der Merwe describes as "absolutely glorious. It's full of elegant lights and color galore — it's going to be magnificent."
Four of the performers are graduating seniors and, said van der Merwe, "I love that I was part of their journey and I feel I prepared them well. But I wish I had one more year with them." However, she said all her dancers are both talented and dedicated to their craft.
"It's through all the sacrifices they make that they're able to perform at this level," said van der Merwe. "It's an ongoing, yearlong commitment for them, and people are always amazed at the standard of our shows and their performances. I push them to get the most I can out of them so they'll be their best, and I'm proud of each and every one of the girls and their accomplishments."
Centreville High senior Jessica Peltier has been with Encore since fourth grade and with its performing company five years. "I love the way it makes me feel," she said. "I'm athletic, so I get to participate in a team atmosphere, and it gives me something to express myself through."
She'll attend Oklahoma City University to study dance performance and ultimately sing, dance and act professionally. She said van der Merwe taught her how to be mature and respectful and communicate well with adults.
"Dancin' Fool" starts in an old, rundown nightclub, but the four seniors revive it in the opening number. "The rest of the show is colorful and exciting and shows the relationships between the people in the club," said Peltier. "There's also a love interest — the dancers all fight for one guy to notice us."
Her favorite number is "Fishies" because "it's sleek and stylized and fun to watch. The music has a swing feel, and we're wearing short, black-and-red unitards with red blazers and black fedoras."
Performing for seven years and with Encore for a decade is Westfield senior Grace Martin. She said the experience helped her become an adult so she'll know how to take care of herself and be responsible in college. "I connect with dancing so much," said Martin. "I can't imagine what I'd do if I couldn't express myself in an art form that's so universally amazing."
She especially likes her solo, "Tear Down the House." It's an upbeat, high-energy jazz dance with lots of turns, which are her specialty. "I've been working on it since the beginning of the year and used it for college auditions," said Martin. "I get to show off my dance style and personality."
This fall, she'll be in the University of Kansas's dance program and wants to eventually own a dance studio and teach like van der Merwe. "It's such a great way to touch people's lives," she said.
Martin said people will enjoy this show's characters and seeing where each song fits into the storyline. And she's nostalgic about the pink-and-Navy costumes in the "Dancin' Fool" number because she's worn it in other Encore shows so it has sentimental value for her.
Centreville senior Sage Coury has danced since age 4 and three years with Encore. She's going to Marymount Manhattan College in New York to study musical theater and perform professionally.
"At Encore, I've learned how to get along with people with different personalities, plus organization and time management," she said. "I'll miss all the girls and Raynor; it's been a home away from home."
In this show, she likes the number, "Feets Too Big," a tap routine "that's really goofy, has big movements and is just fun to perform," said Coury. "We wear funny vests, knickers, ties and polka-dot socks. But my favorite costumes are the long, hot-pink gowns we wear for 'Sit Right Down and Write Myself a Letter.'"
She said the show flows nicely and the acting through the dances "gives a really cool vibe so the audience follows the story happening, even though we're not speaking."
Westfield senior Corinne Holland has been with Encore since age 7 and has danced since age 5. She said it taught her how to be kind and considerate, even on bad days, and to always put her best foot forward.
She's now heading to East Carolina University to major in social work and minor in dance and hopes to someday work with children. But, she said, "I'll miss being up on stage with all the energy between the dancers."
Holland's favorite number is the show's finale, "Dancin' Fool," since "Encore's done it, almost from the start, and the costumes have been passed down from one generation to another." She also likes the short, pink, sequined dress she wears in "Tear Down the House."
The show journeys to Greece for 10 days in June, with the girls performing three times near Athens and once on their cruise ship. "I'm so excited; I love traveling overseas with Encore," said Holland.
"I went to China and Spain with them. Encore gives you so many opportunities, and going to Greece to perform is a once-in-a-lifetime chance. We'll go touring and will also get to see their culture, customs and food."