Chantilly — Transportation was the topic last week when Del. Jim LeMunyon (R-67) addressed members of the Brookfield Civic Association. And he brought good news to the residents about three area projects.
"Route 50, Stringfellow Road and the Fairfax/Fair Lakes Parkway Interchange are all on budget and on time," he said.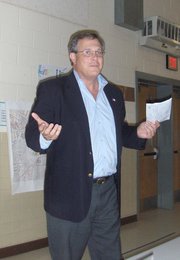 LeMunyon said the Route 50 widening should be finished in early 2014 and Stringfellow is expected to be done by the end of 2013. "Water, phone and gas utilities [along Stringfellow Road] are being relocated and should be done next month," he said. "Road construction is to start in two or three months, possibly by Labor Day."
Work is also progressing well on the parkway interchange project. That one is slated for completion some time in 2013. Meanwhile, said LeMunyon, plans are now afoot to do something about the traffic situation at the I-66/Route 28 intersection in Centreville.
"It's not just a congestion problem, but a safety one," he said. "In the mornings on westbound I-66, there's a one- to one-and-a-half-mile backup to exit 66 to go to 28 north. And that's because of the traffic light at Walney Road."
LeMunyon also noted four of his bills that passed during the last session of Virginia's General Assembly. As a result:
VDOT must rank every transportation project based on how much it will relieve congestion.
The state now has a representative on the WMATA board to deal with issues relating to Metro safety, costs and ridership.
When VDOT's evaluating changes to the Comprehensive Plan in Northern Virginia, it must also provide information about how these changes would affect traffic. Doing so will synchronize development and zoning with the transportation system.
Local governments will be allowed to do their own work to reduce road noise.
LeMunyon also told residents that Fairfax County schools are getting a 16-percent increase in funding from the state. He said the legislators also reformed the state pension system for local-government employees and school teachers. In addition, they granted local governments the ability to pass and enforce laws regarding the licensing of contractors to help guard against fraudulent ones.
ROAD PROJECTS AT A GLANCE
Route 50 is being widened from Poland Road in Loudoun County to just west of Route 28 in Fairfax County. In Loudoun, developers already widened it to six lanes on each end, so VDOT is joining the six-lane sections. Doing so will eliminate a bottleneck where it's two and four lanes in Fairfax County.
The project is fully funded and is designed to be in keeping with the Comprehensive Plans of both counties. Most of the widening on the Fairfax side will be done on the north side of the road where there are the least number of businesses, development, property and impacts. Stormwater- management ponds, as well as 10-foot-wide multi-use trails on both sides of the roadway, are also part of the plan.
Stringfellow Road: The part of Stringfellow between I-66 and Route 29 was four-laned in the 1990s by Fairfax County's Department of Transportation. But the section from I-66 to Route 50 will also go from two to four lanes, providing a quicker, wider conduit between Route 50 in Chantilly and Route 29 in Clifton/Centreville.
The goal is to reduce traffic congestion on Stringfellow, especially during evening and morning peaks. There'll be four travel lanes — two, 12 feet wide, and two, 14 feet wide; a 10-foot multipurpose trail, a 6-foot sidewalk and a raised, 16-foot, grass median.
Bicyclists will not only share the trail with pedestrians, but will also pedal side-by-side with cars, trucks and buses on each outer, 14-foot lane. Utility work has been underway for quite awhile, and the actual road construction should begin in the next few months.
Fair Lakes Interchange Project: The Fairfax County Parkway is being widened within the existing median to six lanes — three in each direction — between I-66 and Route 50. But an interchange is also needed to handle the congestion and rush-hour backups.
The signalized intersections at Fair Lakes Parkway and Monument Drive will be eliminated. And the additional lanes on the Fairfax County Parkway will improve traffic flow from south of I-66 to north of Rugby Road. A split-diamond, grade-separated interchange will have a free-flowing Fairfax County Parkway bridging over Fair Lakes Parkway and Monument Drive.
Fair Lakes Parkway will be widened to accommodate the necessary left-turn lanes for the interchange. Beginning at Fair Lakes Parkway, a multi-purpose trail is anticipated along the east side of Fairfax County Parkway with a connection to the existing trail at Rocky Run Stream Valley Park. The $69.5 million project has a 2013 estimated completion date.