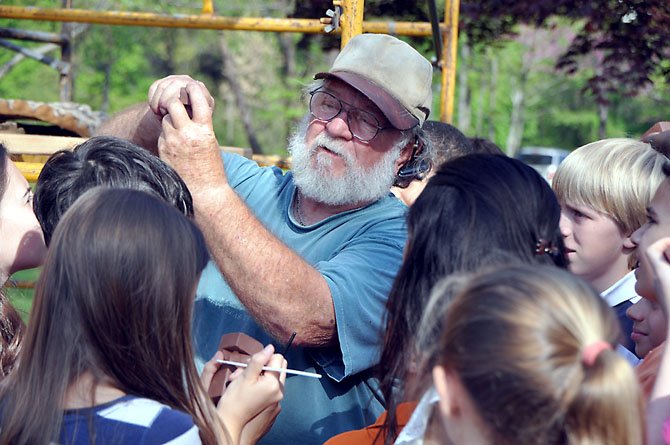 Potomac — A local wizard used his powers of transformation at a Potomac school recently.
When lightning struck and destroyed a tulip poplar on the campus of the Norwood School last fall, school officials commissioned award-winning master carver and sculptor Jim Calder Jr., known as the "Wizard of Wood," to turn the16-foot high, charred tree stump into a carving of the school's mascot, the blue hawk.
"We were very sad to lose such a magnificent tree, which was in a very visible location on our campus, said Dick Ewing, the head of Norwood School. "But out of this tragedy, we now have an incredible piece of artwork that will be enjoyed by generations to come."
Calder spent two weeks at Norwood. During that time students had an opportunity to observe and learn from him as he worked.
"It was cool to see how talented Mr. Calder is and to watch him bring our vision and ideas together to create something we can always enjoy," said Carolyn Hoover, a seventh grade student.
Calder also led classes, during which he taught carving techniques using slabs of clay. "Jim Calder is a true master," said Ewing.
"Watching him create our blue hawk mascot out of a tree trunk has been a rare and unique educational experience for our students. Throughout the three-week project, Jim worked closely with our students every step of the way."
Students say they enjoyed the unorthodox learning experience. "I like the way it incorporates books and children and the values of our school," said Breece Parsons, a seventh grader who lives in North Potomac.
The tulip popular was once the tallest tree on the Norwood campus. "It shows how we can recover from a bad situation and create something that demonstrates how creative we are," said seventh grade student Everett Frulla.
Calder, who hails from a family of artists, including abstract sculptor and painter Alexander Calder, also donated one of his small original carvings to Norwood. The school held a drawing and gave each student a chance to enter and win the piece of art. James Klusaritz, a fifth grade student from Potomac won the two-dimensional carving: a Native American set into a shadow box.