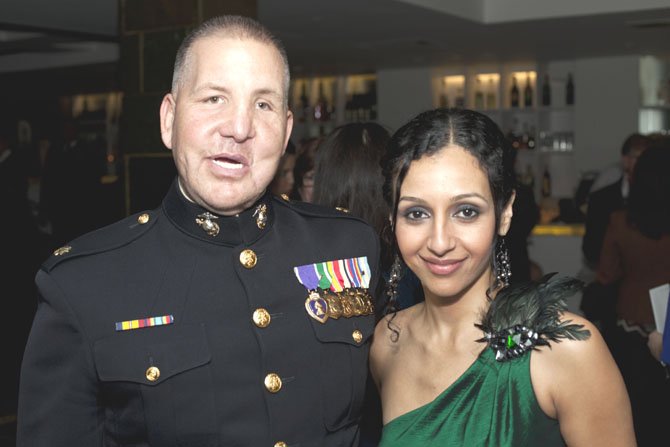 Arlington — Dahlia Constantine, Arlington resident and Patrick Henry Elementary School teacher, met her husband Justin in Argentina in April of 2006.
"Justin and I were dating at the time," Constantine said. "We met in April of 2006 in a school in Argentina. It was very intense and romantic."
They parted ways when she went to California and he went to Virginia. Still, she added, they saw each other all the time.
"I would go to Virginia and he would come to California," she said, until he was deployed to Iraq in September and she was on her way to England at the time.
Constantine said Justin was in Iraq for only six weeks when he got injured.
"He was shot in the head by a sniper," she said. "He was shot in the left ear and the bullet came out of his mouth. It's insane and horrible."
Constantine returned from England and has been caring for her wounded husband ever since.
ON MAY 24, at the Pentagon Federal Credit Union Foundation's (PenFed Foundation) Eighth Annual Night of Heroes Gala, Constantine was recognized as the 2012 "Hero at Home."
The PenFed Foundation is a national non-profit organization that strives to provide for military personnel and their families that need help at home. It's "a public charity that relies on public contributions," said PedFed Foundation Chief Operating Officer Kate Kohler, "but what makes us different from other organizations is that all of our programs have an element of financial literacy education."
"We are also working on building an $11 million Defenders Lodge, a free hotel for veterans in Palo Alto, Calif.," she added.
The Heroes Gala, held at the Ritz Carlton in Washington D.C., honored the family and friends of deployed military personnel and caregivers of wounded veterans like Constantine.
"A person who never enlists in the military really ends up contributing to the military community in a major way," Kohler said.
Constantine added that Justin is still facing a couple of years of surgery, but is resilient and now a practicing attorney.
"He was injured in October of 2006 and back at work by the following May," Constantine said.
He still has speech and sight problems, she added.
"They took out both fibula bones to repair his jaw so when he runs, it still causes pains and puts strain on a lot of the other joints."
Constantine said she was nominated for this honor when Justin "found out about the nomination on the afternoon of the deadline and he wanted to nominate me. He actually made a video and sent it into the PenFed Foundation."
Then she said, the organization picked six finalists and put them on YouTube.
She added that people could then vote on the videos and the one Justin made about her received the most votes.
Constantine said she really excited, and not just about the event at the Ritz-Carlton honoring her service.
"I was touched by the video he made," she said. "Even if no one had seen it but me, it would have made my day. Justin's got an amazing attitude and joy for life and living and is always trying to get better.
We've been in this together as a team. But there was something about that video, it made me so happy."
CONSTANTINE ADDED that she was touched by all the finalist videos.
"Any of the caregivers in those videos could have won. It could have been anyone," she said.
Constantine said she's also thrilled about this competition and event because it sheds light on an issue that is often overlooked.
"I'm really excited the PedFed Foundation had this contest to give attention to caregivers," Constantine said. "We don't think about the soldiers when they come back. I'm glad this contest gave this attention to the cause because the war is winding down and people are forgetting about it. And people are surviving injuries that would have killed them 20 years ago — and a lot of families are torn apart.
The attention and focus on this issue makes me the most happy."