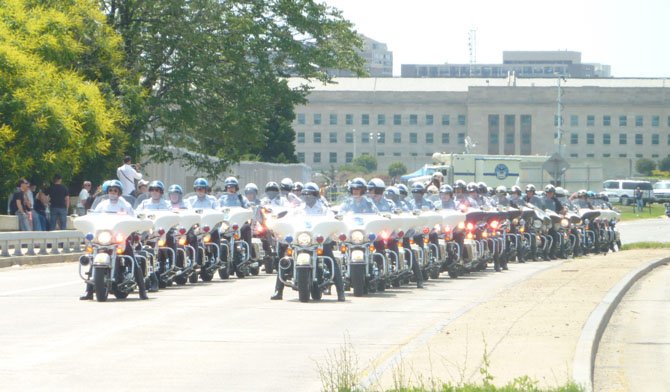 Arlington — An estimated one million riders roared in procession from the Pentagon to the Vietnam Veterans Memorial May 27 in the 25th anniversary Rolling Thunder Ride for Freedom in remembrance of American POWs and service members still missing in action.
"This is my way of helping remember those who have paid the ultimate sacrifice for the freedoms we as a nation enjoy," said Alexandria's Kirk Lippold, commander of the USS Cole when it was attacked Oct. 12, 2000. "It is also to honor all those who continue to choose a life of consequence to serve our nation."
Rolling Thunder, whose first ride attracted 2,500 riders, is a nonprofit organization dedicated to promoting legislation to increase veterans' benefits and resolve POW and MIA issues from all conflicts.
The Department of Defense POW/Missing Personnel Office lists 83,436 service members still missing in action dating back to World War II. Six of those are personnel from the Iraq and Afghanistan conflicts.
"The reason I'm involved is to help veterans and family members of those who didn't return from combat," said Springfield, N.J. resident Mark Given, a Persian Gulf and Desert Storm veteran whose brother Martin was killed in Vietnam. "Rolling Thunder's message is for our POWs and MIAs — that we will never forget."