Alexandria — The National Park Service and the Office of Historic Alexandria will co-sponsor a program called Refugees from Slavery: Contrabands in Washington, D.C., and Northern Virginia on Thursday, Nov. 8, 2012, at the Alexandria Black History Museum from 6:30-8:30 p.m.
The program will consist of two parts. Initially, Professor Chandra Manning of Georgetown University will explain the history of the Contrabands, men and women who escaped slavery during the Civil War.
Afterward, there will be further discussion about who the Contrabands were and how they can be remembered by a panel consisting of researchers, descendants, rangers, and local historians from across the region.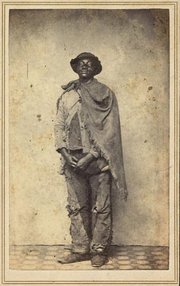 In 2013, the City of Alexandria will open its Freedmen's and Contraband Cemetery Memorial. The Memorial honors the more than 1700 contrabands who came to Alexandria seeking freedom and who were later buried on this site.
This program is free and open to the public. Seating may be limited, RSVP to Alexandria Black History Museum at 703-746-4356. Patrons needing special assistance should contact the Museum two weeks prior to the event for accommodation.
The Alexandria Black History Museum is located at 902 Wythe Street, in the Historic Parker-Gray District. The Museum is five blocks from the Braddock Road Metro Station on the Yellow or Blue lines. There is on-street parking. For more information on this historic site and the future cemetery memorial, go to www.alexblackhistory.org.