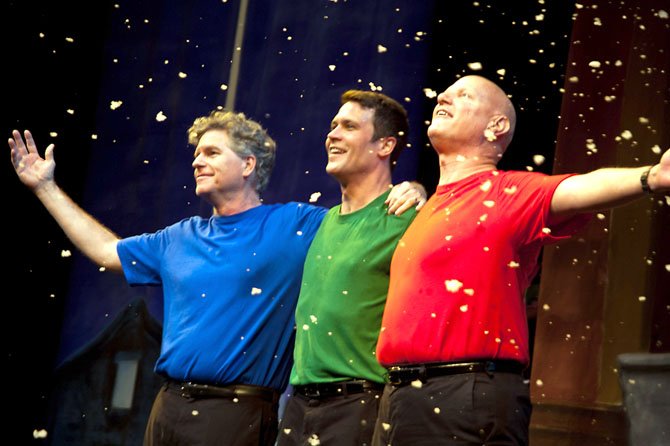 The Reduced Shakespeare Company will be making its annual visit to Reston's CenterStage to bring its "fast, funny and physical" theater. Priding themselves on making audiences laugh with abridged, irreverent send-ups of the classics and history, this year the troupe is setting its sights on the holidays with "The Ultimate Christmas Show (abridged)."
"Reston audiences have developed a strong and happy relationship with the Reduced Shakespeare Company (RSC) and they look forward to seeing both their favorite and their new shows. It has become a tradition that our audiences and the RSC actors really enjoy," said Leila Gordon, Reston Community Center's executive director.
"Reduced Shakespeare Company shows have a deft touch with comedy," added Gordon. Additionally, on Nov. 15, they will be doing two workshops with students at South Lakes High School as part of the Reston Community Center Artist Residency program.
Reed Martin, one of the Reduced Shakespeare Company performers said that "the premise of 'The Ultimate Christmas Show (abridged)' begins with the idea that they are part of a Christmas pageant variety show, but because of bad weather, none of the other acts can show up. So they have to put on the entire pageant doing all the various acts."
And from that good natured premise, the Reduced Shakespeare Company develops a new version of the Twelve Days of Christmas that takes into account the traditional and assorted winter holidays including Christmas, Chanukah, Kwanza and Winter Solstice.
"It is all to celebrate the season so the audience has a great, fun time," said Reed. "There are so many traditions to celebrate."
The audience will participate and have a substantial interactive role. They will be able to give the performers "ideas of what they really, really want for gifts." From those suggestions, the acting troupe will take off into the kind of sharp, smart fun that The Reduced Shakespeare Company is known for.
Reed promised great festive family fun. After all, he once was a clown with Ringling Brothers/Barnum and Bailey Circus. "There are so many ways to make new versions of 'The Twelve Days of Christmas' that the audience will help us."
"For so many people, the holiday season comes along with just as much stress as joy, so we think this is one way we can lighten up for people on that front!" said Gordon. A great time to just be happy.