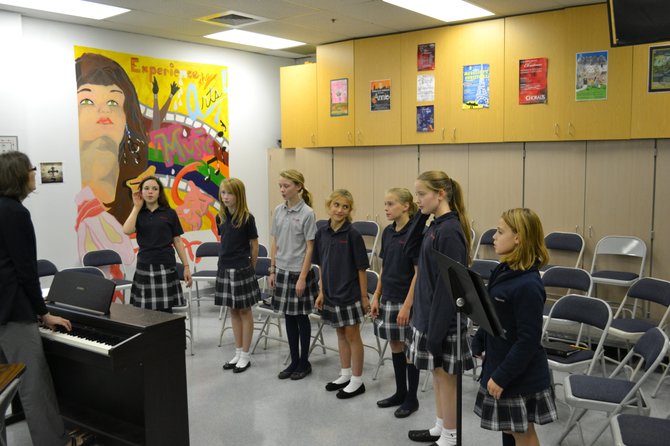 When music teacher Anne Miller came to Oakcrest School 11 years ago, there was no formal music program. The small Catholic girls school in McLean had no formal chorus, no band and no orchestra. So imagine her delight at the school's current reputation.
"It's been said that it's become a singing school," Miller said. "Which I think is beautiful," she added. Miller said the girls are constantly singing in the halls. They leave class singing.
As director of the school's music program, she built the program from the ground up.
The program started slowly. Middle school girls, grades sixth through eighth began with chorus. A music appreciation course was soon added. "They develop an understanding of the great classics as well, and some of them might come in thinking I don't want to learn this music," said Miller. "But invariably they leave saying, 'wow, I want to keep listening and going to concerts.'"
Though the school historically produced one show per year, Miller is proud that the girls now put on Broadway musicals, and present musical shows throughout the year. In fact, last year's Seussical production resulted in four Cappie award nominations for the school. Miller said that could not have been done without Oakcrest Theater Director Jessica Carey.
"I have never liked music class," said sixth grader, Caroline Dauchess. "But I like this music class. It's fun. We learn all these songs, like staccato." At the mention of the word, the students spontaneously belted out staccato demonstrations, which were quickly followed by giggles.
EACH CHORUS CLASS begins with a series of warm-ups, also cause for stifled giggles. The warm-ups feature a wide variety of stretches for not just the vocal chords, but for posture as well. "I think we learned a lot of cool techniques that help us sing a lot better," said sixth grader, Maddy Conroy. "It's a lot of fun. It's cool learning all of these songs that you never thought would exist."
Depending on the time of day, music of another sort can be heard coming from the school's auditorium. Students with flutes, cellos, violins and oboes were spread throughout the room, focused on individual practice sessions.
On one recent October morning, they were just given a new piece of music to learn. Oakcrest Instrumental Music Director Joanna Iwaskiw moved throughout the room, individually coaching each student. Iwaskiw was hired just this year to get the school's new instrumentals program off the ground. Many of the students had previously played instruments, and Miller encouraged them to stick with those instruments until the school's instrumentals program could begin. The students have greeted the new program with enthusiasm.
Iwaskiw enjoys seeing what the children learn. And it's more than just music. "It is a place where the students really express themselves. Their character is very much shown while singing and playing music. And I've noticed also the girls' really hard work ethic, which is lovely to have."
THE GIRLS are beginning to prepare for a Christmas concert on Dec. 17. And Miller is pleased that the upper school chorus has been invited to sing for a third year with the McLean Orchestra, on Dec. 8 and 9, at Oakcrest. Both concerts are open to the public.
Miller said she is proud of the students, and the school's music program. "I am very happy to be able to give the students the opportunity to learn music, to express their creativity, to experience the beauty of music," she said.