Guiseppe Di Begnino, master chef and owner of Dante Ristorante, located in the historic Victorian Leigh House (c. 1880) at the corner of Walker Road and Colvin Run Road, shared the secrets of the Italian culinary art of ravioli-making at the Great Falls Farmers Market on Saturday, Oct. 27.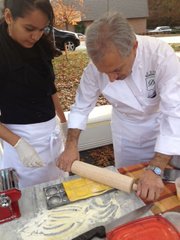 As everyone scurried around town in intense storm-preparation mode, Di Begnino and his team showed that ravioli filled with pumpkin, ricotta and mozzarella cheese could be prepared under a tent with minimal equipment—no power outage would interfere with their plan. With just a few simple tools—a small pasta machine, a mold to shape the ravioli and a pasta cutter—sheets of ravioli were perfectly shaped, filled and sealed before the spectators' eyes. Di Begnino boiled the just-made ravioli for about five minutes in a pot on one propane burner, then used a frying pan on a second burner to sauté the ravioli in sweet butter with a little boiling water with black poppy seeds. The finished product was served on a spacious plate to the delight and amazement of all.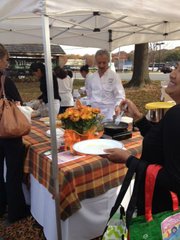 The ravioli-making demonstration was truly a gift, as the ravioli can be used to enwrap just about any combination of healthy fresh market ingredients that you can imagine—vegetables, fruits, beef, pork, chicken, sausages, and all variety of cheeses. For those who have gluten allergies, gluten-free flour can be substituted. For those visiting Dante's with special diet requirements, just ask for Guiseppe, as he explained to one visitor who likes to eat out but has a lot of allergies.
Cooking is an art—an indisputable fact as seen in the preparation of the dessert: picture a butternut squash cupcake with a wave of whipped cream on top, a swirl of chocolate syrup and walnut chips on the side.