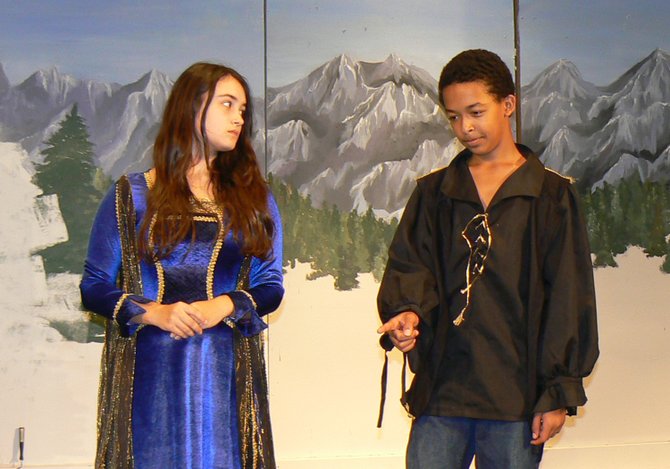 The Langley School will present its middle school fall production of "Romeo and Juliet Together (and Alive!) at Last" Thursday, Nov, 8-Saturday, Nov. 10 at 7:30 p.m. in the school's Sherman Arts Center, with an additional matinee performance at 1 p.m. on Saturday, Nov. 10. Tickets may be purchased in advance at www.langleyschool.org for $8 each.
This comedic version of Shakespeare's classic love story takes place in the modern day when a group of middle schoolers decide to put on a production of "Romeo and Juliet" with the goal of sparking a romance between two of their shy classmates who are cast as the play's hero and heroine. But lack of dramatic expertise, only two weeks of rehearsal, an inadequate set, and a classmate's villainy threaten the well-meaning endeavor every step of the way. When the big day finally arrives, lines are dropped, costumes rip, and scenery tumbles. Yet, in spite of everything, true love triumphs in the end.
Approximately half of Langley's Middle School will take part in the show, with more than 70 students in grades 6-8 joining the cast, crew and pit orchestra. This is a student-run production, so students are involved in all aspects of the play, serving as actors on stage, assisting with sound and lighting, overseeing the action as student directors, working on props, makeup, hair and costume design, helping create sets and assisting with scene changes and backstage operations.
The show features an authentic fight scene, so students worked with a fight director to learn the art of stage combat. As this marks the first time Langley has tackled a Shakespearean work in a middle school production, students also learned to interpret Shakespearean language and terminology.
Founded in 1942, The Langley School is an independent coed day school for students in preschool through eighth grade. Located on a 9.2-acre campus in McLean, the school reaches across multiple disciplines to discover, amplify and embrace the talents of every child, every day.
More like this story