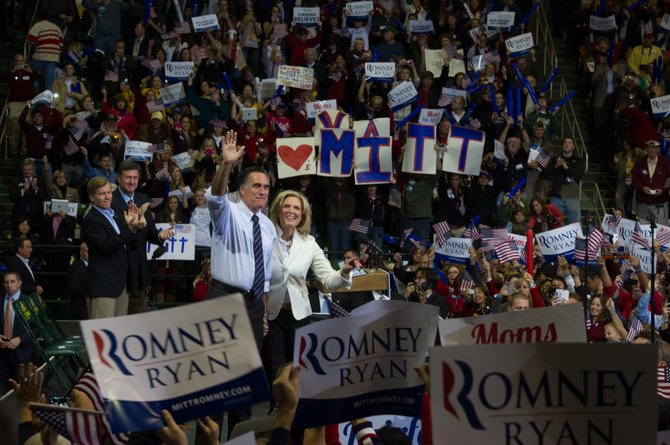 By the time GOP presidential hopeful Mitt Romney took center stage at George Mason University's Patriot Center around 4 p.m. Monday, the crowd was fired up.
More than 10,000 supporters greeted him inside the Patriot Center with sustained cheers and thunderous applause, as thousands more gathered outside the stadium to listen to his speech.
Romney was in the homestretch. After three rallies earlier on Monday—two in Florida and one in Lynchburg—the governor said the crowd's enthusiasm renewed his energy.
"I am looking around to see if we have the Beatles here," Romney joked. "You know, if anyone wants to know where the energy is, just come right here in this room and you'll see it."
When Ann Romney took the stage, the crowd erupted in a round of shouts and cheers.
Photo Gallery
VR_ROMNEY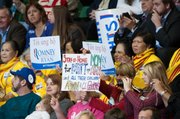 Click Photo for Flash
"Are we going to be neighbors soon?" Ann Romney exclaimed.
"Yes!" the crowd chanted back. "One more day! One More Day!" the crowd continued chanting.
Romney, 65, bantered with the crowd for several minutes, telling them that he recently met a 60-year-old supporter in Florida. "I remember being young like that," he said.
Then he got serious, telling supporters that "tomorrow, we get to work rebuilding our country, restoring our confidence and renewing our conviction, our confidence that we're on a solid path to steady improvement.
"Now, I'd like you to reach across the street to that neighbor with the other yard sign—and we'll reach across the aisle here in Washington to people of good faith in the other party. It's much more than our moment. It's America's moment of renewal and purpose and optimism," Romney said.
"I've been waiting here since 10 a.m.," said Vienna resident Sara Collins, 37, "but it was worth it."
Doug Barclay of McLean brought his 18-month-old daughter, Siri, to the event.
"I'm concerned about the economy, like everyone else. I think he will do what he says—create jobs."
Tara Trego said she was in Virginia staying with her parents in Herndon after Hurricane Sandy flooded her home in New Jersey.
"I was living in New York City on Sept. 11. That hit me… it brought back what it meant to be an American," Trego said. "I truly believe that he believe in us. That's what inspires me. He believes in the American people."
"Everywhere I go, I meet people who represent the best of America," Romney said.