The Vienna Arts Society is presenting the 43rd annual Treasury of Art juried show and sale at the Vienna Community Center, 120 Cherry St., Vienna, during the weekend of Nov. 16-18.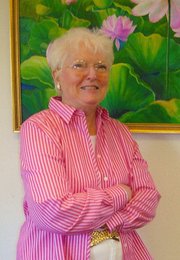 Sales hours are: Friday and Saturday, 10 a.m.-9 p.m.; Sunday noon-4 p.m.
An awards reception will be held on Friday, Nov. 16, from 7-9 p.m.
At the reception, visitors will have an opportunity to meet the artists while listening to the Serenada String Quartet and enjoying light refreshments. The event is free and open to the public. Visitors will vote for their favorite artwork for the People's Choice Award, which will be presented at the close of the show on Sunday.
The Vienna Arts Society has unanimously elected Pauline Davis Lorfano to be Artist of the Year, and she will be one of the honorees during the show.