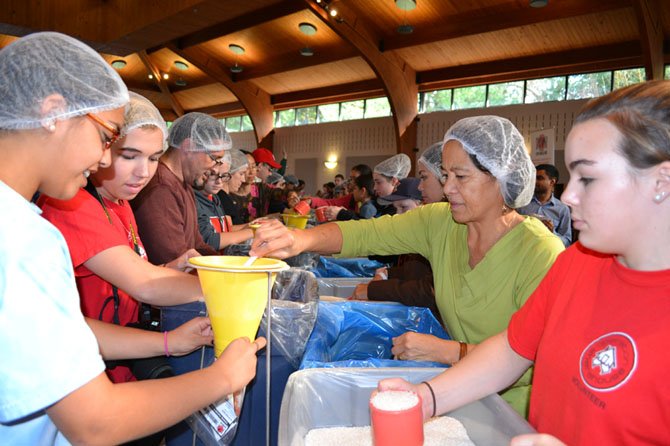 Last Saturday nearly 1000 volunteers gathered at McLean's Lutheran Church of the Redeemer to assemble more than 250,000 pre-packed meals. The volunteers knew that the project would help feed up to 800 Haitian children every day for about a year. But what they may not have known is how their effort last week will help change lives.
Once assembled, the bagged meals consisting of rice, soy, dried vegetables and vitamins, were packaged and loaded directly onto a shipping container in the church parking lot. Two days later, that container began its journey to Haiti.
What makes these pre-packed meals life changing is not just the sustenance it will give to those who often go without eating. While these meals will likely be the only meal that the Haitian children will eat each day, they will provide something even more important. The meals, which are distributed to students in Haiti through the organization, Mission of Hope, encourage families to send their children to school. This is important in a country whose families are so poor that they sometimes resort to sending children to landfills to find food, or to a street corner to beg, or even send them out as child prostitutes.
Photo Gallery
LB_HUNGER
Click Photo for Flash
LONGTIME MCLEAN RESIDENT Bob Hahne and his wife heard about the Stop Hunger Now program, and committed to packaging a total of one million meals. Hahne, with the help of the church and McLean Rotary, put together a committee of community organizers. Now the committee includes representatives of the McLean, Dunn Loring, and Tysons Rotary Clubs, local high schools, and a wide range of religious groups, just to name a few. Local businesses, Chain Bridge Bank and Wheat's Landscaping are big contributors. The group focuses on fundraising and volunteer recruitment. To date, the program has assembled more than 700,000 meals. After next year, the program will reach its goal of one million meals.
Dominic Alexander is the program manager for the national capitol office of Stop Hunger Now. He works closely with Hahne to run the McLean program. Stop Hunger Now provides the meal ingredients for the project for about .25 cents per meal. Alexander calls it his largest and favorite event of the year.
"The idea of hungry people transcends any religion, any group, any age. Folks coming together here to package meals, it just shows that we can come together to collaborate and cooperate," said Dominic Alexander, "regardless of our own religious beliefs."
At first glance, one might think that the Lutheran Church of the Redeemer was hosting a party. The large gymnasium was filled with hundreds of smiling faces of all ages. The pop music was loud, which the younger volunteers loved, and the older volunteers didn't seem to mind. Every few minutes a thunderous gong would clang followed by an eruption of cheers. The gong marked another 1,000 meals assembled.
"It's really meaningful to be making meals for people on the other side of the world who are starving," said Langley High School senior Ellen Sensiba. "It's really meaningful and really rewarding. I'm grateful that I live in a community where I have the opportunity to do things like this."
SANDY KESSINGER is the new pastor at the Lutheran Church of the Redeemer, which lends its facilities to the event each year. She joined the church in January of this year. "This is my first experience with Stop Hunger Now," she said. "It's a phenomenal way for the faith community and the whole community in McLean to come together. It's fantastic to see many of the young people giving of themselves today. It's just awesome."