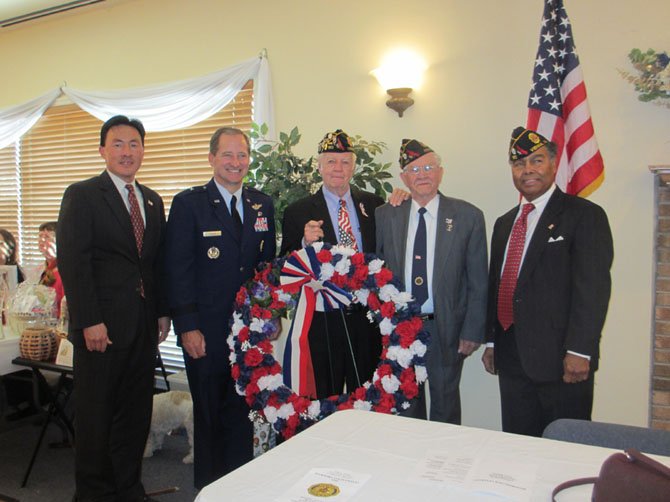 Vienna honored Veterans' Day at a program hosted by Vienna's own American Legion Dyer-Gunnell Post 180. Recently-retired Brig. General Bob Ranck of Vienna, USAF, offered the keynote address, reminding citizens that there are still thousands of American troops in harm's way.
"This is a day for thanking veterans for keeping our freedoms intact," said Post Commander Ron Patterson.
RANCK RETIRED near the end of October after 34 years in the Air Force, four in the Air Force Academy and 30 in active duty. He served six command tours, two tours in Iraq and flew eight different aircraft. His speech focused on military preparedness. When the armistice was signed on Nov. 11, 1918, ending the war to end all wars, the United States slashed its military strength. It was George Patton's father who bought the last remaining company producing tanks, to keep it in business. Equipment from World War II was ignored, and when America was brought into the Korean War, the aircraft flown by U.S. servicemen had been poorly-maintained. "The airmen who flew from Japan to Korea were sacrificial lambs," Ranck said.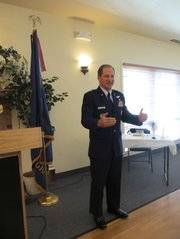 "The U.S. went into Korea unprepared. We went into World War II unprepared."
Today, Ranck said, we still have troops in harm's way. "If you're not preparing today, you have no readiness for tomorrow," said Ranck. We have to remember the lessons we don't want to repeat, he said.
POST 180 partnered with the Vienna Woman's Club to fundraise on behalf of Companions for Heroes [C4H], a regionally based nonprofit that pairs PTSD-affected combat veterans and first-responders with shelter-housed animal companions whose role it is to help the veterans cope with their traumas. The Woman's Club, following the Veterans' Day program, sold raffle tickets for gifts donated by community businesses. The top raffle prize was $100, donated by the Woman's Club.
Janet Leissner, a volunteer with C4H, introduced her canine friend Lucky and spoke of the pairings of vet and animal companion. Companions for Heroes was founded by a young USAF veteran whose own life was saved by the dog he rescued. Believing other veterans would benefit from a dog's companionship and loyalty, David Sharpe founded C4H in 2009. Twenty to 23 U.S. veterans kill themselves every day.
The animals adopted by these veterans come from shelters or rescue leagues. Many of the animals themselves are on death row, about to be euthanized. Most program attendees bought several raffle tickets to support the cause. Leissner said that 99 percent of every dollar raised goes directly to C4H programs.
THE MIA/POW TABLE—empty chair, symbolic pieces—was set up to remember those who never came home. Emile Larsen, president of Auxiliary Unit 180, and Post 180 Chaplain Bob Hatter presented the memorial wreath as Taps played.
Del. Mark Keam [35th-D] and Town Council members Cary Sienicki and Howard Springsteen attended the Veterans' Day program.