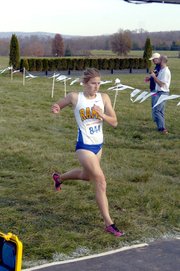 Robinson junior Macey Schweikert worked her way to a top-five finish at the VHSL state meet like a cross country assassin.
"I slowly picked off people," she said after the race.
Schweikert pulled away from one opponent out of respect for her closing speed. She passed another runner with determination built from prior defeats. At the end, Schweikert placed fifth with a time of 18:08, earning AAA all-state honors for the second consecutive season on Nov. 10 at Great Meadow.
Setting her sights on a different runner every 400 meters, Schweikert said she continued passing opponents as she worked her way toward the front. As she encountered Lake Braddock junior Katie Roche, Schweikert knew she wanted to pull away out of respect to Roche's speed.
"I've raced her before … and I know she has wheels," Schweikert said. "[I thought] I cannot be near this person near the last 500 meters because I know she has [speed]."
Roche placed sixth with a time of 18:17.
Schweikert passed Concorde District foe Allie Klimkiewicz while thinking about the times she had lost to the Oakton sophomore in the past.
"I saw Allie Klimkiewicz [and I thought], OK, I've been letting her beat me all season," Schweikert said, "… I need to [beat her]."
Klimkiewicz finished ninth with a time of 18:27.
Schweikert improved on last year's time (18:34) and finish (seventh).
Lake Braddock's Sophie Chase won her second consecutive state title with a time of 17:24, followed by West Springfield's Caroline Alcorta (17:45), Lake Braddock's Hannah Christen (17:54) and Midlothian's Kara Dickerson (18:02). Robinson's Lauren Berman finished 28th with a time of 19:11.
"I slowly picked off people."

--- Robinson junior Macey Schweikert
The top 15 individuals receive all-state honors and the top three teams are honored on the podium.
Lake Braddock won the team title with a score of 47. Oakton and Midlothian each finished with 101, but Oakton finished runner-up due to a sixth-runner tiebreaker.
In boys' action, Robinson finished sixth with a score of 198. Chantilly won the state title with a score of 57, followed by Midlothian (72), Battlefield (128), Lake Braddock (159) and Osbourn Park (180).
John Tolbert was Robinson's top finisher with a time of 16:23. Luke Sharkey, Patrick Myers, Nathan Schulte and Brendan O'Connell were also point-scoring harriers for the Rams.