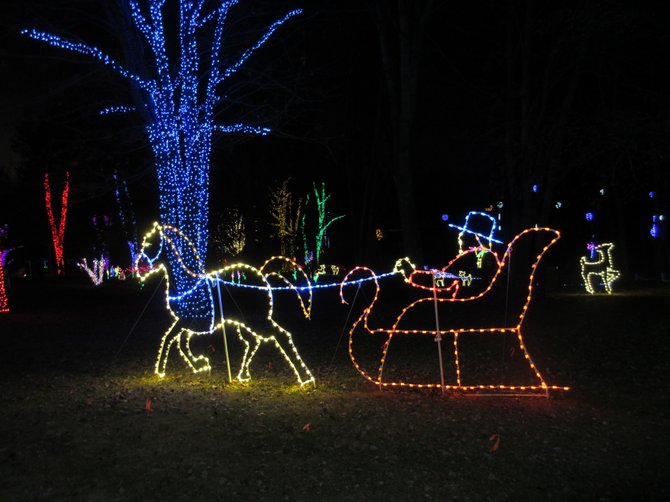 In one of the season's more spectacular holiday gestures, the chairman of the board of the Northern Virginia Regional Park Authority, Brian Knapp, ceremonially threw a switch at Meadowlark Botanical Gardens in Vienna, illuminating hundreds of trees and scenes within Meadowlark's 100-acre parkland. From a lighted gingerbread cottage to illuminated horse and sleigh and Victorian skaters, Meadowlark created scenes and vignettes to delight children and adults alike.
Meadowlark's Winter Walk of Lights officially opened at 5:30 p.m. on Friday, Nov. 16. The winter wonderland of sparkling lights runs daily until Sunday, Jan. 6, 5:30 p.m. to 10 p.m. each night. The park, off Beulah Road at 9750 Meadowlark Garden Court, is owned and managed by the Northern Virginia Regional Park Authority.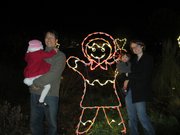 The featured paved path runs more than a half-mile, its displays lit by more than 500,000 LED lights. There are nature themes of animals and flowers, seasonal themes of gift boxes and reindeer, and playful themes of animated trees and fountains.
Unlike a drive-by light parade, where the tempo is determined by cars behind and front of you, a walk-through conforms to your own pace. You can even sit on a bench and watch the routine of an animated electronic light show.
A [very big] gingerbread boy and a snowman greet visitors, hugging children. Parents snap photos. It's a family fun event and an evening of awe for adults, as well.
"It's such a beautiful place with all these lights," said Anna Vilcatona of Fairfax. "It's a good place to come for winter. We need to tell our friends to come." Vilcatona's friend, Leticia Chavez of McLean, agreed. "It's awesome, so creative. Perfect for the Christmas season."
The Burke family drove in from Fredericksburg, bringing with them family from across the country. It was worth the money, they said.
Seven-year-old Sydney Burke, wearing 3-D glasses from Meadowlark's Snowflake Shop, said the winter walk of lights was "really cool, especially with these glasses."
The Northern Virginia Regional Park Authority hosted a reception for park staff and the media on Saturday, Nov. 17. Refreshments were served in the Atrium, and then, around 5:15 p.m., everyone from the reception and the visitors' center, moved outdoors.
At 5:30 p.m., the lights at Meadowlark Gardens were switched on, bathing the landscape is a kaleidoscope of glowing color, reds and greens, purples, blues and yellows and crystal.
Paying guests far outnumbered reception guests and everyone whose assessment was asked expressed enjoyment in the display. Some visitors came as far as Fredericksburg specifically for the winter lights festival, saying it was worth the drive. Some came from as near as Vienna.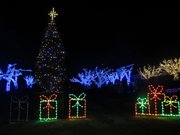 "We're really enjoying this," said Sara Woo of Vienna, with her husband Jansen and their two young children, Adeline, 14 months, and Abbey, 3. "The kids love it. They love that they can get close to the displays. And they like the little surprises."
Weekdays—Monday through Thursday—online admission fees are $12 per adult, $7 for children aged 3 to 12, and children under 3 are free.
Weekends—Friday, Saturday and Sunday—and holiday online admission fees are $13 per adult, $8 each for children 3 to 12, and children under 3 are free. Holidays include Nov. 22, Dec. 24, 25, 31, and Jan. 1. Use coupon code WINTERWALK when purchasing tickets and receive $1 off per ticket.
A limited number of walk-in tickets may be available at $14 per adult, $9 per child aged 3 to 12, and free for children under 3.
Light refreshments, from hot chocolate to sweets, will be sold throughout the illuminations season from a tent on the grounds. A firepit burns for warming and for roasting marshmallows.
For details, see www.winterwalkoflights.com or phone 703-255-3631.