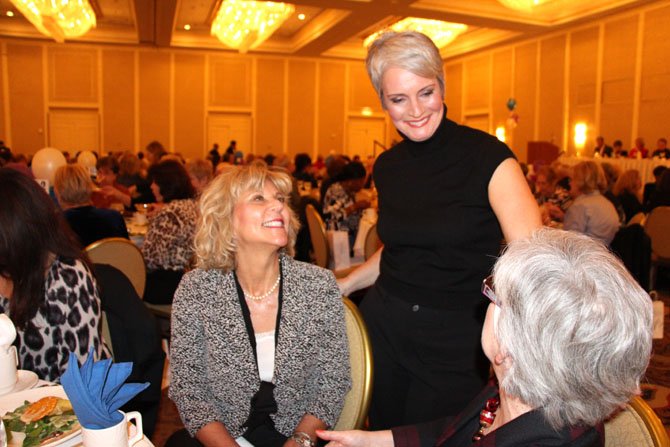 Alexandria — "I don't know if you've heard, but . . . [Inova Alexandria Hospital] was rated fourth out of 159 hospitals in the D.C. area," said Cynthia Puskar, president of the Board of Lady Managers, in her opening remarks at the organization's 140th anniversary celebration luncheon, silent auction and fashion show on Friday, Nov. 9 at the Hilton Alexandria Mark Center.
The group of women on the Board of Lady Managers, much like the group of "charitably disposed" women, as their first president, Julia Johns, put it, are hard workers and women of faith who put a lot of sweat into their annual production, which raises money for Inova. Puskar was hoping the day's funds raised would amount to $20,000.
Photo Gallery
Board of Lady Managers Celebrates 140 Years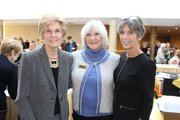 The Board of Lady Managers was celebrating 140 years of dedication.
Click Photo for Flash
The Board of Lady Managers pledged to supply nine anesthesia machines over eight years to Inova Alexandria hospital, "but we're way ahead of schedule," said Puskar with a laugh at the silent auction preceding the luncheon. She leaned in to her friends and fellow board members Judy Doering and Lynda West and they ran some numbers. "We've raised $256,000 so far this year," said Puskar.
West, the treasurer, added, "Our goal for the end of the year is $376,000."
The Board of Lady Managers was celebrating 140 years of dedication.
"Thirteen, 14 years ago, we thought about changing the name," said Past President Diane G. Argerson. "'The Board of Lady Managers,' we said. 'What does that mean?' But we've kept it, because we're very traditional. A lot of things have changed over the years, but not the dedication and enthusiasm of the women." She added, "No one tells you no here. And we're trying to get new members to come in."
Argerson explained how the Board of Lady Managers membership process works. "The requirements are that you are a member of a house of worship in the Alexandria area; and a letter from the rabbi or the priest stating not necessarily that you're in good standing, but that you're a hard worker …" said Argerson.
The friends of the Board of Lady Managers came out in droves as well. Ladies Professional Golf Association golfer Angela Oh came with her aunt, Sheila Raho. "I think it's a great event," said Oh. "It's fun with the silent auction."
Friends Anita Turk, Helene Schrott and Elaine Rosenberg have been coming "Forever," said Turk. "We've come ever year for — we can't even tell."
Others were excited about making new friends, like Mary Kankam and Caesar Oluwole, tailors of Aflame, Inc., a sewing school specializing in dresses, embroidery, men's tailoring, and curtains and drapes, who came sporting their own fashions. "We just read about it in the newspaper and we came," said Kankam. "It was a good cause."
Alice Sabbagh and her daughter Maha, who go to Inova when they need to see the doctor, enjoy the day annually. "Every year we come, every year," said Alice Sabbagh. "We come to support the hospital. Bonnie [Nasr], on the committee, invited us," added Maha.
Ruth Corlett, event chair, said, "My favorite part of the day is seeing the people's smiles and accomplishing the goal."