Beth El Hebrew Congregation at 3830 Seminary Road in Alexandria, hosted a gala on Saturday evening, Nov. 17, to honor Rabbi Brett Isserow on his 10th anniversary as rabbi for the congregation. The gala included a reception and catered dinner with dancing and was held at Beth El.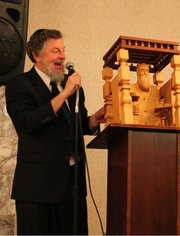 Isserow is native to Johannesburg, South Africa where he practiced as a chartered accountant. In 1987, he came to the rabbinate and the U.S. at the same time, meeting his wife at the Hebrew Union College in Cincinnati.
He spent 11 years as an associate rabbi in Atlanta, Ga. before he and Beth El Hebrew Congregation found each other and where he remains today. He said, "I count myself most fortunate to be surrounded by good and decent people who truly want to make this a kehilla kedosha, a holy community, for whom Jewish values take on real meaning. One only has to walk into the building to get a sense of its warmth and depth."

Linda Waller, president of Beth El said, "We have been so fortunate to have Rabbi Isserow as our spiritual leader. He exemplifies derech eretz, the right way, and through his quiet leadership has greatly strengthened our congregation."
Isserow is a member of the Ethics Committee of Inova Alexandria Hospital and president of the mid-Atlantic Conference of American Rabbis' Board. He also is involved in a number of other interfaith and Jewish organizations.