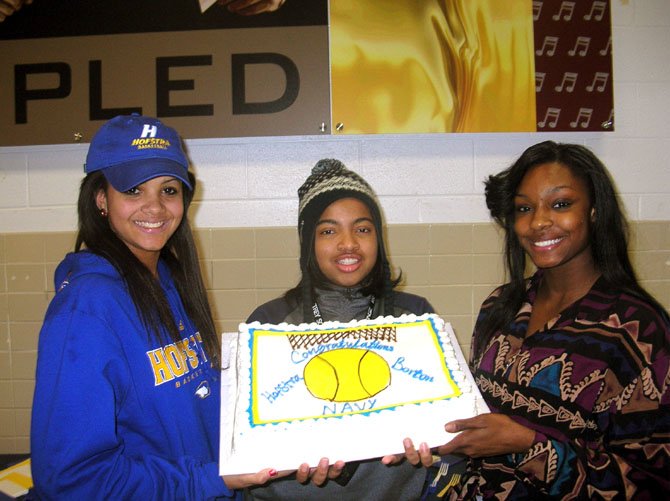 Mount Vernon — On Nov. 14, the Mount Vernon girls' basketball program celebrated seniors Kelly Loftus, Taylor Dunham and Tiffany Webster for choosing where they would attend college.
Loftus, a sharp-shooting guard, signed with Division I Hofstra. Dunham, who head coach Courtney Coffer called "the best point guard in the region," will play Division I ball at the Naval Academy. Webster, a slashing guard and defensive standout, is headed to Division II Barton College. Dunham and Webster plan to sign in the spring.
While each member of the talented trio has her college plans figured out, the Majors have some lofty goals to work toward back at the high school level.
Mount Vernon returns all but two players from a team that reached the Northern Region semifinals last season, falling one win short of a state tournament berth. The Majors won their second consecutive National District championship and finished with a 25-2 record, with their only losses coming against eventual state champion Oakton.
Loftus, Dunham and Webster have been on varsity since they were freshmen. In 2010, Mount Vernon lost to Oakton in the region quarterfinals. In 2011, the Majors lost to T.C. Williams in the region quarterfinals. Last year, Mount Vernon got past the quarterfinals with a win over Annandale, but lost to Oakton in the semifinals.
"I think going to states is a must," Dunham said. "Winning states is definitely the goal, but it's no longer OK for us to just lose at regionals."
Dunham is the team's floor general. She comes from a military family, which helped in her decision to attend Navy.
"I honestly believe she's the best point guard in the region this year, as a senior," Coffer said. "She can actually control the game for us. We can put the ball in her hands and we can tell her, 'This is the type of game we want to play, you implement the game plan, you be [a coach] out on the floor,' and she can do that.
"And then, if we're having an off night, she can get you 15 to 20 points, as well."
Loftus is the Majors' top offensive threat.
"I think going to states is a must. Winning states is definitely the goal, but it's no longer OK for us to just lose at regionals."

--- Mount Vernon senior Taylor Dunham
"She's a flat-out shooter," Coffer said. "If you leave her open, she's going to knock the shot down from anywhere on the floor. She's added range to her shot, but most of all, she's a playmaker. I think a lot of people don't really know that about her game --- she's able to make plays off the bounce. She's able to get in the lane and dump it down, she's able to see someone open and give them a backdoor pass and things like that. Just the dynamics of her offensive game is really what makes her very dangerous."
Webster can produce points and is one of the team's best defensive players.
"Every team needs a slasher," Coffer said. "We have a lot of shooters and she brings that slash game to us."
Webster said years of playing with Loftus and Dunham has helped build a strong relationship on the court.
"We know how each other plays," she said. "We always know to be ready for a pass, or that they're ready for a pass and we always know where somebody is on the floor."
Another key returner is junior Samantha Porter, who brings toughness and a strong work ethic near the basket. During last year's regular season matchup with Oakton, Porter continued playing after getting one of her front teeth knocked out.
"Most coaches say that there's one kid that you can't play without," Coffer said. "With all this talent that we have, if we don't have [Porter] on our team, we're not going to achieve our goals. She's all the hustle, she gives us 180 percent of her heart every night, she's tough [and] she rebounds the basketball."
Senior guard Deja Wanzer and juniors Morgan Kuhns (guard), Erika Irving (forward) and Chanel Shannon (guard) also return. Junior post Kelly Quigley provides the Majors with size in the paint. Freshmen Chanise Ray (guard), Jasmine Collier (guard) and Erin Irving (wing) are expected to contribute.
Mount Vernon will travel to Fairfax High School for a scrimmage on Saturday, Nov. 24. The Majors will open the regular season at West Potomac at 6 p.m. on Tuesday, Nov. 27.
"This is my last chance. This is my last go-around," Loftus said. "Me, Taylor and Tiffany have been together since we were freshmen. We saw [former Mount Vernon standouts] Tracy [King], Jasmine [McDonald] and Jalinda [Venable have] their season end early. We saw how it felt, how they looked, [how] they cried. We just don't want that to happen. We want it to be a happy ending."